This is a Tasty Flan de Queso with guava and cream cheese that will leave you asking for more.
Ready in:

45 Minutes (10 Prep - 35 Cook)

| Serves:

6 - 8

| Complexity:

Medium
Ingredients
4 Large Eggs

1/4 can Condensed Milk (14 oz)

1 can Sweetened Evaporated Milk (12 oz)

1 8"x 8" square or a 10" round Baking Pan (Stove & Oven safe)

Berries of your choice (Optional topping)
6 oz Cream Cheese

1 tsp Vanilla Extract (Optional)

1 Can of Guava Shells (4 to 6 Guavas)

+/- 1/2 cup brown Sugar (For the Caramel)

+/- 1 tsp Water (optional - For the Caramel)
Directions
Open the Can of Guava Shells separate liquid from shells, set the liquid to a side.

Cut guava shells in small 1/4 inch cubes

Preheat oven to 350 degrees Fahrenheit (180 C)

Follow the process to make caramel form Flan de Queso
Mix ingredients as indicated in the Flan de queso recipe

Add half of the cubed guava shells to the mixture and about 1/4 cup of the heavy syrup of the shells.

Place in a Double Boiler (Baño de Maria) in the preheated oven for about 30 minutes, add remaining guava shells and make sure to sink them in.

Place back into the oven for an additional 20 to 30 minutes, Test with a toothpick (if it comes out clean, it's done).

Remove from oven carefully as water should be boiling hot, remove from double boiler and let sit for at least 15 minutes before turning it upside down on a clean plate.

Decorate as desired and serve.
Eat as is, or with vanilla ice cream.
This

Flan de Queso with Guava

was a hit, every one loved it. Our nephew said it was great.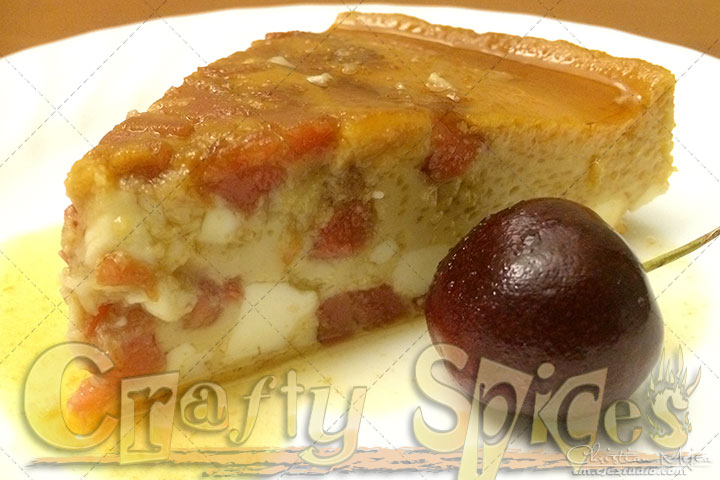 Have fun, and Enjoy!!