This is a not so "Spanish Tortilla" done with eggs, potatoes, salmon and sweet peas, perfect for breakfast or dinner.
Ready in:
20 minutes
| Serves:
2 - 3
| Complexity:
Easy
Ingredients
10oz shredded salmon

6oz sweet peas

3 medium size potatoes (cooked and cubed)

5 to 7 eggs (depending on size)

2 tbs tomato sauce (Optional, not used in presented recipe)

3oz mozzarella cheese cubed

1 tsp Salt

1 tsp Pepper

1/4 of onion

2 to 3 Garlic Cloves (mince)

1/4 cup Extra Virgin Olive Oil (EVOO)

1/8 cup shredded mix cheese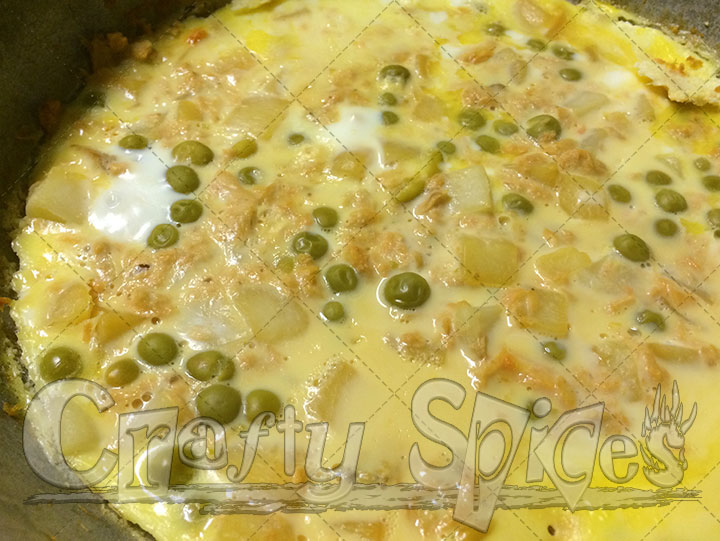 Directions
On large skillet over medium - high heat warm EVOO add onions and garlic cloves cook for a few minutes (until onions start to seem translucent)

Add salmon, stir and continue to cook for 3 minutes then add the remaining ingredients except: eggs and shredded cheese.

Mix well, taste for seasoning (add salt / pepper as per your preference)

In a separate bowl, beat eggs, and add to skillet.

Cook until eggs are firm.

Flip into a serving plate, add shredded cheese while still hot.
Server with bread, veggies or your favorite crackers.
Enjoy your
Salmon Tortilla
if you like it, or have your own version tell us about it. We love to hear from you.

Have fun, and Enjoy!!