Avocado is not only very delicious but it provides fiber, potassium, Vitamin E, B-vitamins folic acid and many other nutrients good for the human body. As a child we only had it plain or with a bit of salt, now days we enjoy it both sweet and salty, in shakes, salads, cake, ice-cream and many other ways. If you like avocado, I am sure you will love this recipe of Avocado cupcakes
Ready in:
40 Minutes (20 Prep - 20 Cook)
| Serves:
10 - 12
| Complexity:
Easy
Ingredients
1 cup Sugar

1/2 cup Butter, room temperature

3 Eggs, well beaten

1 1/2 cup Pureed Avocado

1/3 cup Buttermilk

1/2 tsp Cinnamon

1/2 tsp Vanilla

1/2 tsp Salt

1 1/2 tsp Baking soda

1 1/2 cup All purpose flour

1/2 tbsp Lime Zest

2 tbsp Lime Juice
Avocado Frosting:

1/2 Cup Pureed Avocado

2 tsp Lime Zest

1/4 tsp Lime Juice

1/2 cup of powdered sugar (more per taste)

2 slices of pineapple

6 oz Cream cheese
Directions
Preheat oven to 350 degrees F. (175 degrees C.).

In bowl, sift flour, sugar, baking soda, salt, and cinnamon. Set aside

In a another bowl, cream together the sugar and butter.

Add whisk eggs, and mix together.

Lastly add pureed avocado (I left extra-small pieces), lime zest, lime juice, buttermilk and vanilla, then mix well.

Pour batter into ungreased cupcake paper cups, fill 3/4.

Bake for 20 minutes or until toothpick inserted in center of cupcake comes out clean.

Remove from oven and let cool down in the pan for about 5 minutes, then take each cupcake out and set them out to cool down completely before putting frosting.
Decorate cupcakes and top with a small piece of avoado.
These
Avocado Cupcakes
are great for the entiere family.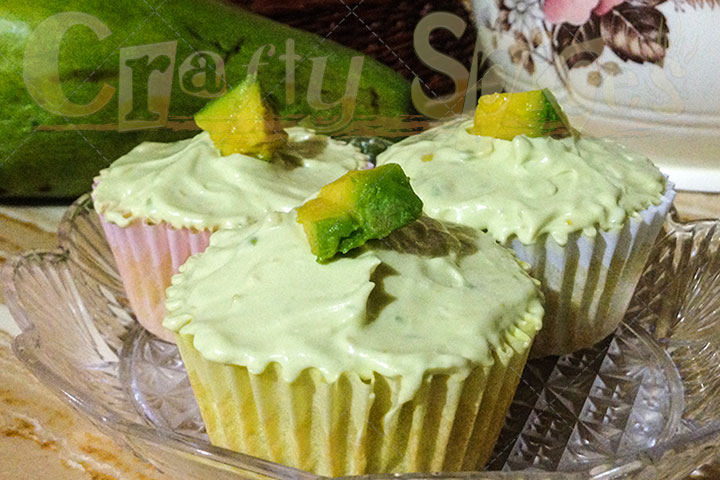 Have fun, and Enjoy!!