This is sponsored content in partnership with the Niche Parent Network & Conference. All opinions are my own.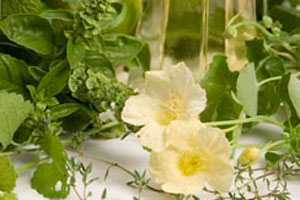 It can definitely be a challenge specially during the holidays to maintain or even continue that weight-loss goal that you had set.

Tell me about it! Thanksgiving is around the corner with Turkey, stuffing, stuffed potato, not to mention all does yummy desserts. And then comes Christmas, we typically start December with yummy cookies (for sure not on the list of that weight-loss diet).

While you may think that it's a lost cause, but let me tell you that you are not alone, many of us are in the same boat, yet I'm happy to share with you that with just a few healthy changes your goal of maintaining you weight-loss plan can truly prevail through the holidays.
Written by:

Crafty Spices

Hits: 5312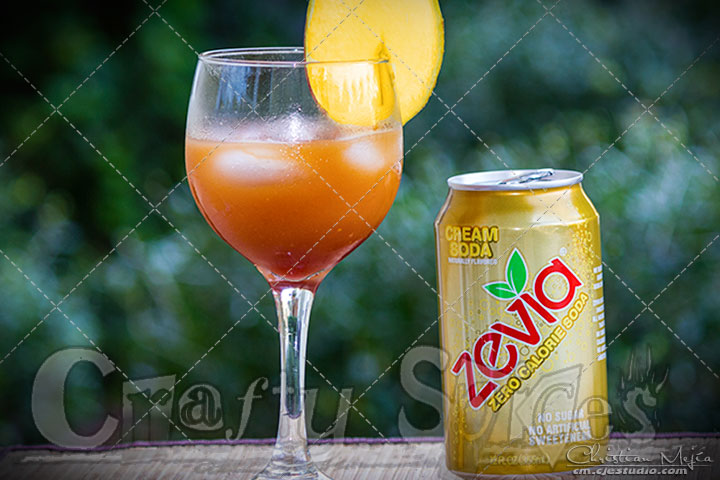 The holidays are here, that usually means family gatherings which are full of excitement and of course plenty of food and drinks. We love to make these as interesting as possible not only for the adults but also for the Little ones.

We have created this tasty Mocktail, delicious for both adults and kids. A drink that I feel proud to offer to my guests, including my nieces and nephews (children) since even though it includes soda I know it's not full of sugar or artificial ingredients since we are using "Zevia Zero Calorie Soda".
Written by:

Crafty Spices

Hits: 8259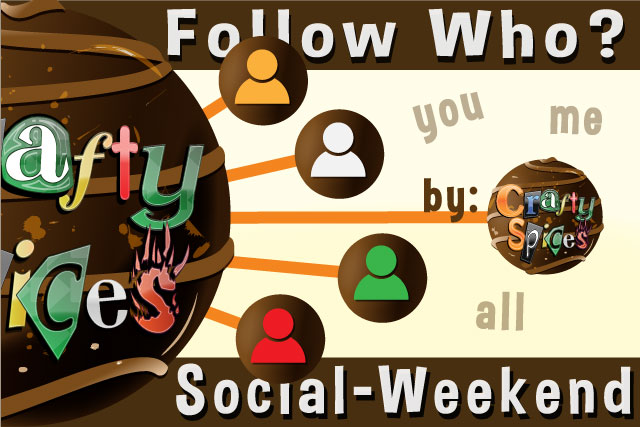 SWHop58...
Friday again!! And that means the social Hop is on.
Do you have plans for the weekend? are you ready for the Holidays? Meanwhile let' party a bit.

Thank you to all that have made this weekly party possible.

We are happy to be able to keep this going and it is all Thanks to all of you that come every week.
Written by:

Crafty Spices

Hits: 5232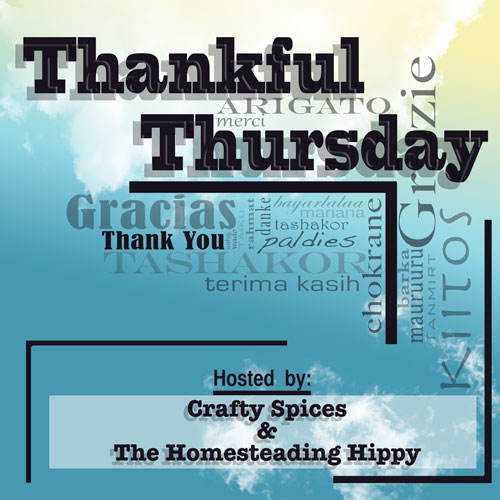 Inspired by the month of November and the upcoming Thanksgiving celebration my Friend Heather form The Homesteading Hippy have come up with the idea of creating and hosting a weekly "Thank you" day and that's how "Thankful Thursday" came to be.

We will be sharing with you that for what we are thankful. If you are inspired and would like to join us, write a post of what you are thankful and linkup to our Linky below. This is a great way to take a moment to reflect and/or to talk and teach our little ones to be thankful people.
Written by:

Crafty Spices

Hits: 5581
Join in as 8 bloggers come together and share with you a progressive dinner, online style. Each blog will "host" a course, and share with you a favorite recipe for the holiday season. This dinner is being hosted by:
We are looking forward to serving you! All you need to do is follow along the blogs, and you'll get a full course meal to bring in your holiday season! Thanks for joining us and being our guest!
Written by:

Crafty Spices

Hits: 12148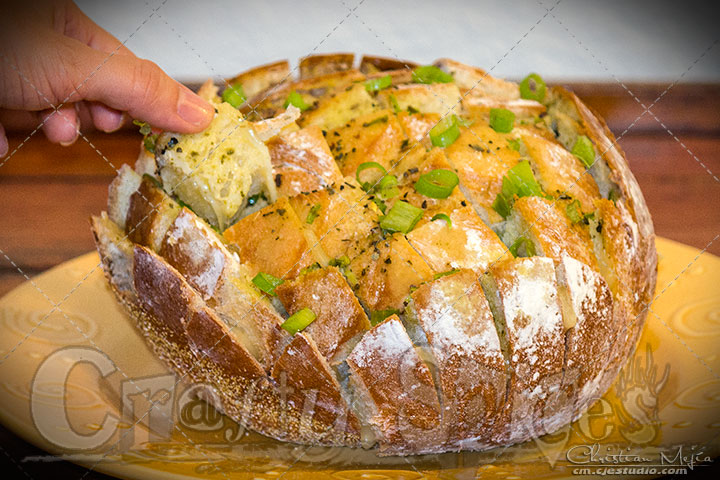 Good for any occasion, really… Just for a hangout of even to be served at a dinner [Thanksgiving, Christmas. hint, hint..].

I can't take the credit for the original idea of the Pull Apart Bread, and I really don't know who came up with it, I heard of it by my friend Susan and since then I have seen different versions of it. Being a Cheese lover I decided to make this as a double or triple cheese, but feel free to make it with different ingredients like pepperoni and cheese, ground beef and chess, I think I will be trying it next week with baby shrimps and herbs. Be creative.
Written by:

Crafty Spices

Hits: 8685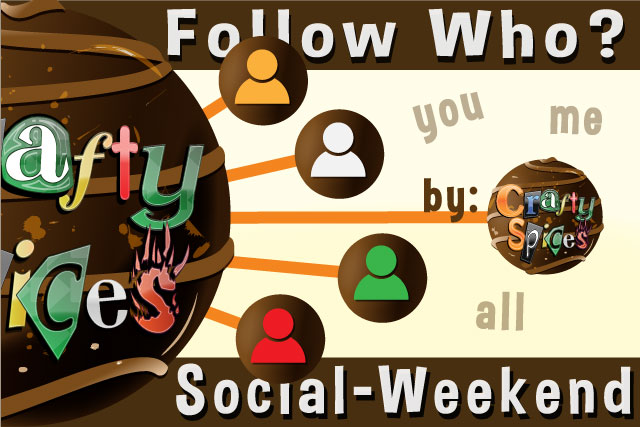 SWHop57...
Almost Friday!!
That means party time, but really how often do you party or get together with family or friends?

Would love to make it a tradition to always get together a specif day of the week with family and friends. Get the Girls into this type of routine.

If you are one of our weekly visitors, we have a BIG THANK YOU for you, this party would not be the same without you.
Written by:

Crafty Spices

Hits: 5148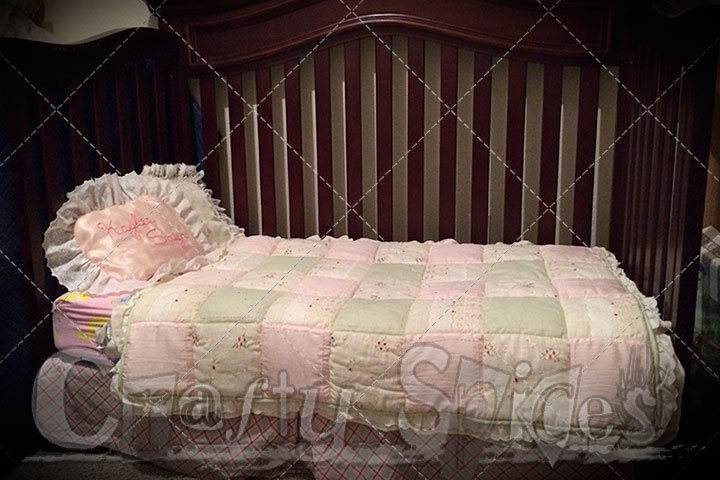 How do Little Ones grow so fast???, and while we are happy to see them grow, we are also sad that we can't stop time and enjoy every moment a little bit more.

I can't believe this just happen, it was not so long ago that she came to the world, filling us with excitement, joy and so many other feelings that are hard or close to impossible to describe. Our Children are the most valuable treasure that we posses and yet they are not really ours, as much as we try to hold on to does precious moments, we can't.
Written by:

Crafty Spices

Hits: 5578
The holidays are pretty much here, that typically involves plenty of cooking, eating and gatherings with family and friends.

After joining the blogosphere many of us get a feeling that we are more than bloggers, we create a sense of community where we build relationships and just the same way that we get together in the real life we bloggers get to do parties and holiday activities online. Today we are inviting you to one.
Written by:

Crafty Spices

Hits: 4866