We ended up loving this Very Cheesy Pull Apart Bread: simple bread, cheese and herbs.
Ready in:
45 minutes (15 Prep + 30 Bake)
| Complexity:
Easy
Ingredients
1 Sourdough Bread Loaf (unsliced)

8 ounces Swiss cheese, thinly sliced

8 ounces Mozzarella cheese, thinly sliced

8 ounces Cheddar cheese, thinly sliced (Optional)

1/2 cup butter, melted

1/2 cup finely diced green onion

1 tbsp. Pesto (optional)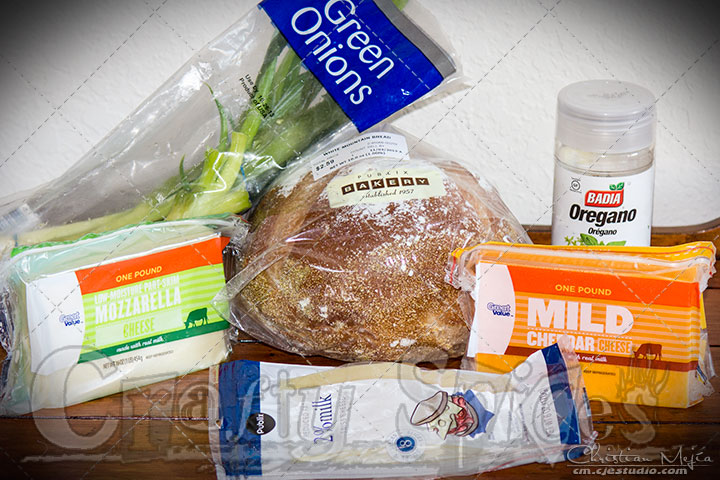 Directions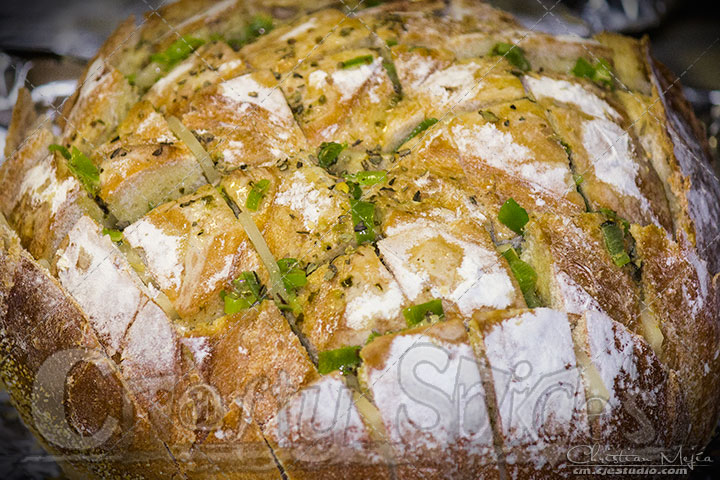 Preheat oven to 350 degrees Fahrenheit (180 C)

Take Sourdough Bread slice on both directions (lengthwise and widthwise) staying about 3/4" from the bottom crust, this will create pieces to pull apart.

Use a baking sheet or pan, cover with aluminum foil and place sliced bread loaf on it.

In between each cut place a slice of cheese (if using two types of cheese I add one in one direction and the other on the second direction) using your fingers push chess down and if you need more chess don't be afraid to take another slice for the same pocket.

In a small bowl combine butter, green onion, oregano and pesto. Mix well.

Pour over bread, trying to get most of the liquid inside the cuts with the cheese.

Cover using aluminum foil, and place in the preheated oven.

Bake for 15 to 20 minutes, then unwrap and continue to bake for 10 or 15 minutes or until cheese is melted.

Remove from oven and your Pull Apart Bread should be ready to pull and enjoy.
This is it for our:
Very Cheesy Pull Apart Bread
and if you do your own version, please come and tell us what ingredients you used for your pull apart bread.