They turned out to be a sweet, smooth bar, interesting enough to keep wanting more Keep reading to find out how easy they are to make.
Ready in:
55 Minutes
(
5 Prep
-
50 Cook
) | Serves:
8 - 10
| Complexity:
Medium
Ingredients
3 cans of Red beans

6 oz of Cream Cheese (soften)

1 can Condense Milk

1/2 can Evaporated Milk

2 Cinnamon sticks
1 pack of roll out pie crust (room temperature)

tbs Powder Cinnamon

Coconut Syrup (Optional - topping)

1/2 cup dried cranberries

1/2 cup raisins

1/4 cup shredded coconut
Directions
Preheat your oven to 375F. Spray a 9" square baking pan with cooking spray and line pan with parchment paper, leaving enough extra to extend over the sides.

Strain and rinse red beans, place in a blender with evaporated milk.

Add to a large pot with condense milk and cinnamon sticks, cook at medium-hight heat for about 15 minutes, stirring every 3 to 4 minutes.

Add cream cheese, mix well, continue to cook at low heat, stirring occasionally until it has a thick consistency .

Meanwhile unroll the pie crust and make a 9" square and place into the oven safe pan. Set aside

Remove mixture from stove and let cool for at least 30 minutes

Spread a layer of bean mixture over the pie crust

add a layer of raising and cranberries (1/4 cup each), and a layer of shredded coconut.

repeat layers starting with a layer of pie crust and bean mixture

Make strips of about 1/4" thick and 3" long of pie crust set them as the very last layer.

Bake in preheated oven for 20 minutes, open oven and sprinkle with remaining shredded coconut bake for 10 more minutes.

Remove from oven and let it cool before serving

After it has cool-down cut as desired and garnish with coconut syrup
I love to have them with a glass of milk.
These
Sweet Bean Bars (Barras de Habichuela con dulce)
are a great conversation starter.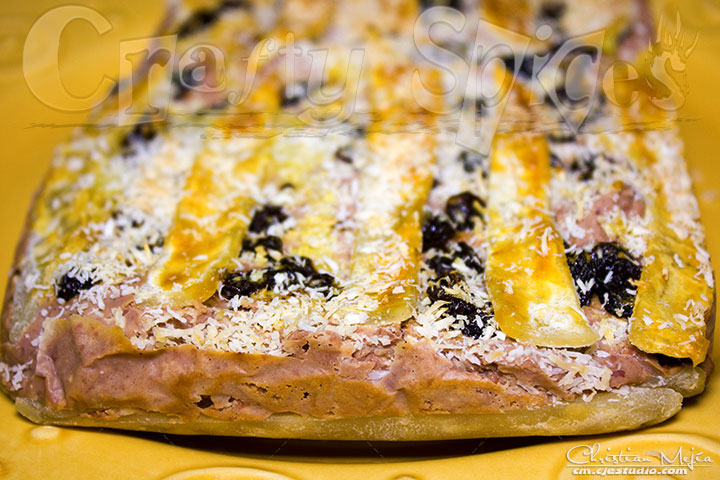 Have fun, and Enjoy!!