We have been doing more than a few "Frozen theme" things and I promise to share them all with you in future posts. For now here is a very tasty Jello that you're entire family can enjoy.

This a fun "Frozen" blue and white Jello that your little ones will love.
Ready in:
25 minutes + Refrigerating time
| Serves:
6 - 8
| Complexity:
Very Easy
Ingredients
6 ozs Berry Blue Jell-O Gelatin

14 ozs sweetened condensed milk

2 envs unflavored gelatin

Cookies and Cream Chocolate (1 large bar or 20 kisses, either way I crush them)
Directions
In a non greased container (not your final container), mix the blue jello as indicated in the box, refrigerate in any container until firm (at least 4 hours), we left it overnight.

Ones Blue Jello is set scrape the jello out (do not try to maintain a proper cut) the less even the shapes the better results.

Take the pyrex pan (approximate: 9 x 13) to be used with the final product and grease it or spray with nonstick spray
Pour the scraped blue jello into the greased pyrex, make sure to distribute well.
In a separate bowl, add 1/2 cup of cold water, add 2 envelopes of unflavored gelatin and stir until dissolved, add 1 cup of boiling water and stir well again. Stir in the sweetened condensed milk, and let it cool down for a few minutes.
Crush cookies and cream chocolate and spread half in the pyrex with the blue jello
Pour white mixture over blue scraped jello, top with the remaining crushed chocolate, refrigerate overnight.
Decorate with Frozen Theme characters and you have yourself a lovely and tasty "Frozen Theme" Jello

You may also make sure the sides have released and slide the jello on to a tray (Not upside down) and then decorate as desired.
Enjoy our
Disney Frozen Movie Theme Jello
.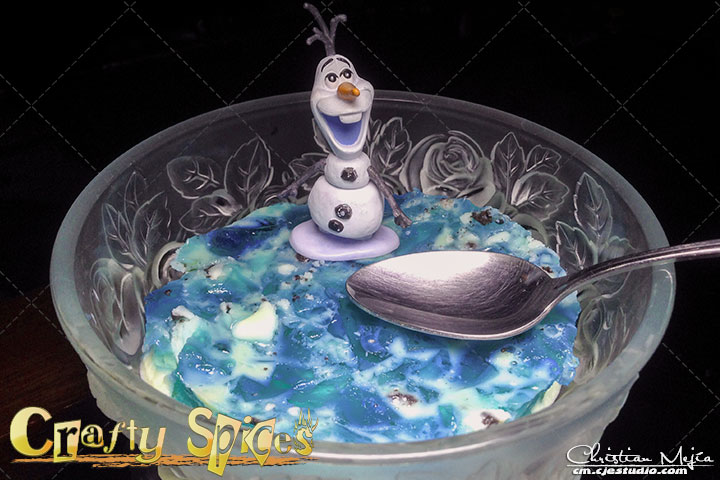 Learning Time
Fun educational activities or questions to do with little ones while preparing this recipe.
The best part is that if your little one loves the Movie "Frozen" as much as our little ones you will be enjoying every second and each activity incorporated in the making of this recipe.
Ask your child to name the main characters of the movie.
Afterwards ask them to tell you what colors are predominant for each of the characters.
Incorporate the concept of solid and liquid - water and ice - Frozen, you get the idea.
Ask what character is totally make-believe and should not really be real and why. - Olaf of course.
Little ones can help mix jello and scrape the Berry Blue jello ones it's set, then they can even help pour it into the pyrex.
Helping, learning and having fun together is the best gift that you can give your child.

Have fun!
Hope to hear your thoughts