A simple twist to the traditional "Flan de Queso" adding Oreos and making much more appealing for does chocolate lovers.
Ready in:
45 Minutes (10 Prep - 35 Cook)
| Serves:
6 - 8
| Complexity:
Medium
Ingredients
4 Large Eggs

3/4 can Condensed Milk (14 oz)

1 can Sweetened Evaporated Milk (12 oz)

1 8"x 8" square or a 10" round Baking Pan (Stove & Oven safe)

20 Original Chocolate Oreos

4 - 6 Vanilla Oreos (Optional for serving)

8 oz Cream Cheese

1 tsp Vanilla Extract (Optional)

+/- 1/4 cup brown Sugar (For the Caramel)

+/- 1 tsp Water (optional - For the Caramel)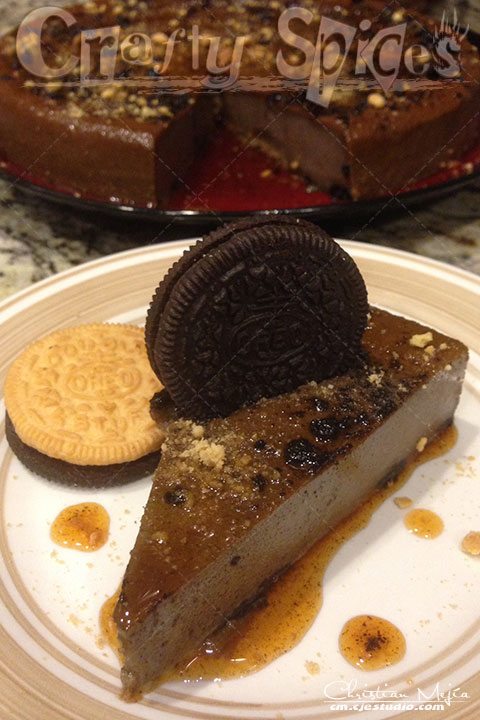 Directions
Open Oreo cookies and remove cream

Place 10 Oreos in a blender, blend until they are all crumbled.

Preheat oven to 350 degrees Fahrenheit (180 C)

Pour Oreos into a bowl.

Take the remaining Oreos and hand crush them leaving some small pieces. Set aside.

Add brown sugar to the pan, place over low to medium heat (stove top) to melt and make caramel.

Take blender and add eggs, evaporated milk, condense milk. Mix well

And crumbled Oreos and cream cheese mix just for a few minutes you don't want to over blend and add air bubbles.

Pour mix into the caramelized oven-safe pan

Place in a Double Boiler (Baño de Maria) and into the preheated oven for 15 minutes, at which point you will add the hand crushed Oreos to the top of the flan (do not mix together).

Insert back into oven for an additional 10 minutes or until a toothpick comes out clean of batter.

Remove from oven carefully as water should be boiling hot, remove from double boiler and let cool down for at least 10 to 15 minutes before flipping upside down onto a serving plate.

Add a few crumbs of Oreos to decorate.
What do you think about making an
Oreo Flan
? Let me know how it comes out.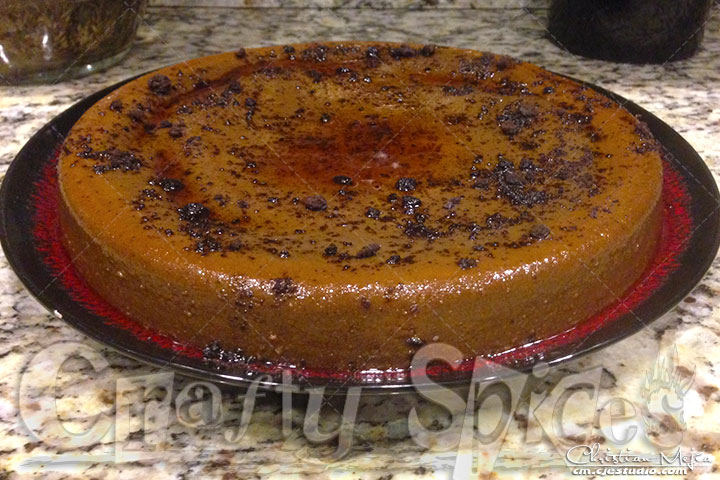 Have fun, and Enjoy!!