Today I'm sharing with you not a dish from my past but a new recipe of my own, that my family loves and we take advantage of making it when Mangos are in high season, since it's harder to get good fresh Mangos here in Chicago Land.
Ready in:
40 Minutes (10 Prep - 30 Bake)
| Serves:
5 - 6
| Complexity:
Easy
Ingredients
1 Roll of Crescent Rolls
2 to 3 Large Fresh Mangos
8 oz White Chocolate Cream Cheese
8 oz homemade mango jam (No sugar added), you can use a store purchased one
1/2 tsp Vanilla Extract (Optional)
1 tsp cinnamon
1 Backing pan
3 tbs butter (divided 2+1)
1 tbs brown sugar
2 tbs brown sugar (optional, for sweetening mangos)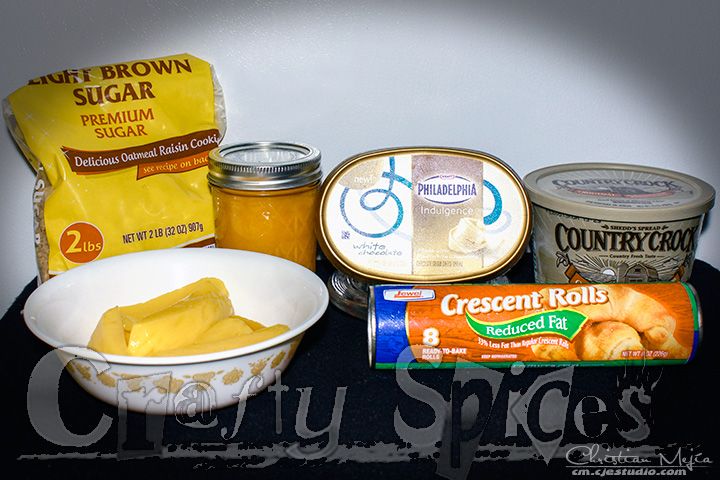 Directions
Peel and cut mango into small to medium size slices.
If you like your desserts very sweet, add about 2 tbs of brown sugar to the mango slices and toss to coat them. (most of the time I skip this step, it depends who is coming over)
Preheat oven to 350 degree F.
Spread 1 tbs of butter on baking pan. (you can use a butter base non-stick spay)
Open and unroll Crescent Dough to form a rectangle, press seams together to form a full sheet and place in backing pan.
Spread 6 oz of White Chocolate Cream Cheese over the center of rectangle dough, covering the full length and leaving about 2 inches on each side.
Spread 6 oz of Mango Jam over W.C. Cream cheese.
Spoon slices of mango over cream cheese.
Mix together the 2 oz remaining cream cheese and mango jam, then spread over the mangos. (I put in microwave oven for 10 sec to melt, it makes it easier to spread)
Cut the edges of the dough in 1.5 inch strips and fold over the center of the mangos, alternating strips to form a loose braid.
Brush with the remaining butter, top with sugar and cinnamon.
Place in oven, bake for 25 to 30 min (until golden brown).
Serving Options: You can serve warm and garnishing with some fresh slices of mango (like presented above), it also goes well served warm with a scoop or 2 of vanilla ice cream, or you can serve cold strait from the fridge.
Hope you enjoy, and share your thoughts with us.
And our #countdown continues:
"21 days"