I've admitted before that I am a very curious person, but I did contained myself with this one for a long time, yet not so long ago I was recommended for health benefits to eat more black beans; well that got me thinking it was probably time to tryout that recipe that I was given, and never got to it. I decided to bake it and give it a try; I was pleasantly surprised with the results.

Since then we have done black bean brownies in different way and with different recipes, we can do it from scratch, or if you don't have much time, you can do the easy recipe that I am featuring today, substituting some not so healthy ingredients for Black Beans.
Ready in:
40 Minutes (7 Prep - 33 Bake)
| Serves:
10
| Complexity:
Very Easy
Ingredients
1 Box Fudge Brownie Mix
1 can Black Beans (Including liquid)
1/4 cup Milk Chocolate Baking Chips (optional)
1/4 cup Raisins (optional)
1 tsp Vanilla Extract (Optional)
1 Mixing bowl
1 Backing pan (we use a square 9" x 9")
1 baking whisk
1 blender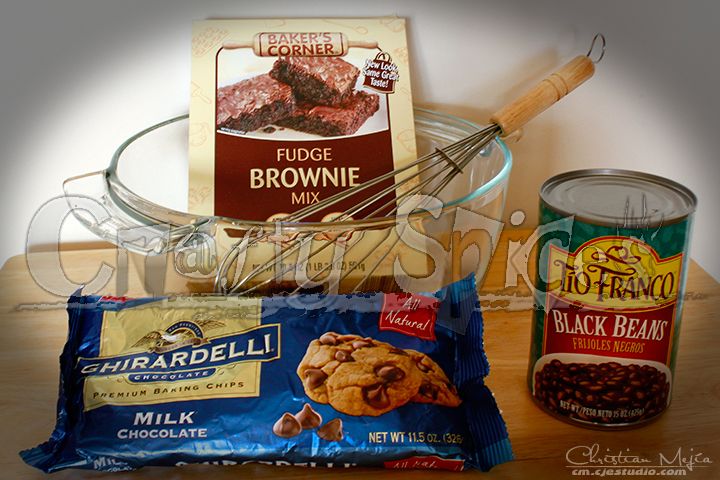 Directions
In blender, pour all the contents of the can of black beans and liquefy, if to thick, you may add just a bit of water.
Insert the liquefied beans in the mixing bowl and slowly add the content of the Box Fudge Brownie Mix.
If adding any of the optional ingredients this would be the time to add them to the batter.
Preheat oven at 375 degree, place in hot oven and let bake for 30 to 40 minutes depending on how moist you like your brownies (the longer it stays in the oven lest moist it will be).
Take out of oven, let cool down before plating, and then decorate as desired.
Don't just imagine it, as the result of your imagination most likelly will not compare to the results of this recipe, give it a try. Remember that Black Beans contain many vitamins and minerals, they are also very high in fiber, protein, and antioxidants; not to mention that we are not using other not so healthy ingredients in the making of this yummy brownie. Hope you enjoy it!
Tell us what you think about it.