You may do this recipe in larger molds, yet after having kids I tend to do everything thinking essentially in the little ones and their little messy hands. Plus with these little teasers there is not only less mess but also less waste
Ready in:
55 Minutes (10 Prep - 45 Freezer)
| Serves:
7 - 8
| Complexity:
Very Easy
Ingredients
6 oz White Chocolate Candy Melts
8 oz Organic Greek Yogurt
2 oz Peach Jam (or your favorite jam)
Wax Paper
Push - Ice cube tray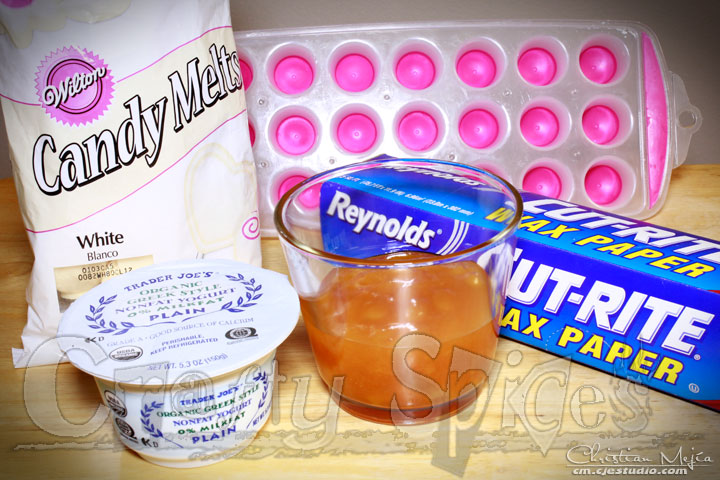 Directions
Fill half way ice cube tray with yogurt.
Add 1/2 tsp of jam (shown in picture to the right).
Top with yogurt.
Place in freezer for about 45 minutes or until completely frozen
Before taking out of freezer, melt chocolate melts per bag directions.
Place a piece of wax paper in a large plate or tray and set aside.
Take ice cube try out of the freezer, push teasers out and drop one by one in melted chocolate, take out with a spoon and place in wax paper
Server immediately, or take back to freezer.
Hope you enjoy and share your thoughts with us.