Ready in:
95 Minutes (15 Prep - 35 min cool down - 45 Cook)
| Serves:
8
| Complexity:
Medium
Ingredients
8 Large Sweet Potatoes
4 cups water (for boiling)
2 cans (8 ounces each) unsweetened crushed pineapple, drained
2 bag of large marshmallow
1/2 cup Brown sugar
4 tbs Powder Cinnamon divided (3 and 1)
1 tbs butter (optional)
cherries for garnishing.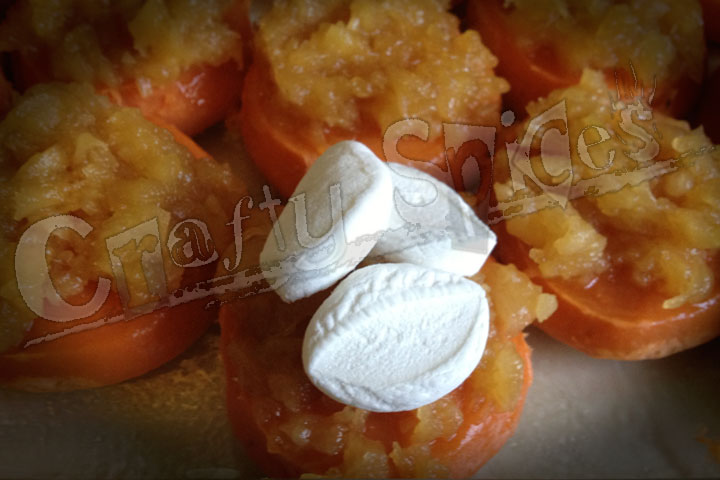 Directions
Peal and cube sweet potatoes
Add water to pot and boil sweet potatoes for about 15 min or until sweet potatoes are tender.

Remove from water, mash, add 1tbs cinnamon and set aside to cool down.
In a sauce pan, combine pineapple, butter, sugar and remaining cinnamon. Bring to boil and reduce heat for 5 more min. Set aside.
After sweet potato have cool down make 1.5" round balls, place on a baking sheet one by one, pressing down and creating 2" round patties, after completing the sheet but in freezer for a min of 30min. (I have even left them overnight)
Remove from freezer, add a tablespoon of the pineapple mix over each of the patties.
Take a large marshmallow cut in 3 parts on the long side and place over pineapple of a patty, repeat process until complete all patties. (See picture above)
Place uncovered baking sheet in oven, bake at 325° for 10-15 minutes or until heated through and marshmallow are turning gold on top
Remove from oven and place half cherry on top.
Server immediately or warm before serving for a better taste.
Eat by itself or as a side dish.
Enjoy...