This is tasty and flavorful, not your every day scramble eggs.
Don't be shy, just give it a try.
Ready in:
16 - 18 minutes (10 Prep + 6 - 8 Cook)
| Serves:
2 - 4
| Complexity:
Easy
Ingredients
1/4 Red bell peppers

1/4 Yellow bell peppers

1/4 Orange bell peppers

4 Green onions

8.5 oz sweet peas

6 large slices Canadian Bacon (Chopped)
4 Eggs

1 tsp Garlic

1 tsp Salt

1 tsp black pepper (Optional)

Baked Lentil chips (As many as desired)

Nonstick spray
Directions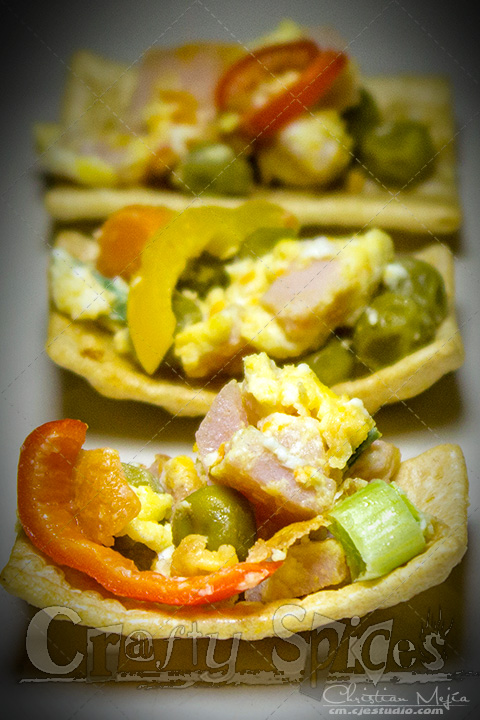 Add nonstick spray to a frying pan, add Canadian Bacon cook for 2 minutes

Rinse and slice red, yellow and orange bell peppers,

rince and choppe green onions

Add peppers and green onions to the frying pan that contains the Canadian Bacon and continue to cook for just 2 minutes

Add remaining ingredients and cook utill eggs are done but not dry.

Taste for salt and pepper preference.


Serve warm and enjoy.

This is one recipe where you can get creative, use what you have at hand, mix and mach with ingredients that you and your family love.

If you are one that are always wondering what are you goin to cook, or simply rushing with time and a deadline for something, it's simple... Try to do some Pre-prepping, spare a few minutes one day: slice the peppers, choppe the green onions, and any other veggie that you think could come handy then just place them in a container either in the fridge or the freezer. Having these ready to use are awesome and could save you much time.
We like to enjoy these
Scramble canape
with the lentil chips as a family snack.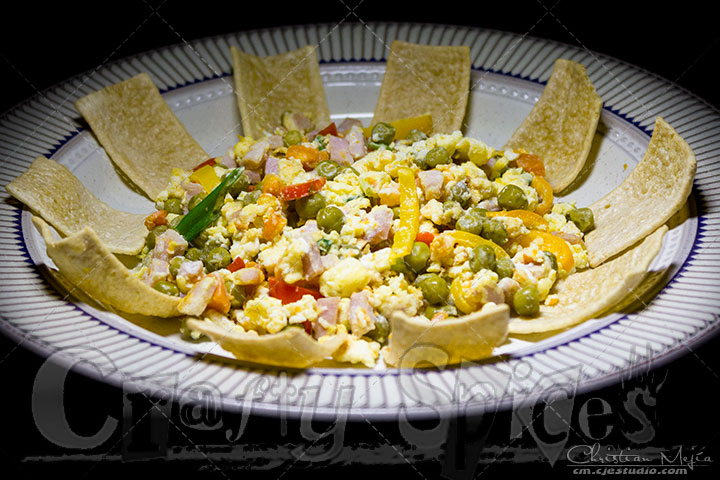 Learning Time

Fun educational activities or questions to do with little ones while preparing this recipe.
Little ones can rinse veggies
Identify all colors for the ingredients and then separate items by color
They can count the amount of ingredients for the recipe
Place ingredients in the order that they will be used.
Play a simple short opposite game with the colors and shapes of the ingredients you can even add random things that you see in the kitchen.
Little ones can always learn something new, help them along the way.

If your children are anything like ours they love to be involved and have a sense of helping. Kira loves to help us prep the ingredients, she does the washing/rinsing of the peppers and the green onions, she is one to make sure everything is ready for when we need to dump things in the frying pan, sometimes we let her dump some of the ingredients (always with our supervision).

Have fun, and enjoy every moment.