Serves:
3 - 4
| Complexity:
Medium
Ingredients
1 chicken bouillon cube

1/4 green bell pepper, finely chopped

1/4 yellow bell pepper, finely chopped

1/8 cup chopped or sliced olives

1/4 red bell pepper, finely chopped

1/2 Cup chopped green onion

1 small onion, finely chopped

1/2 lb bacon, (Cut into small slices or dices)

4 cloves garlic, minced

1/2 teaspoon dried oregano

3 cans of black bean

1 tablespoon balsamic vinegar (Optional)

1/4 cup Extra Virgin Olive Oil

1/2 Cup tomato sauce

2 Cups water

1/2 tbsp salt

1/2 Cup grated Romano cheese

1 Cup baby shrimps

1/2 Cup extra large Shrimps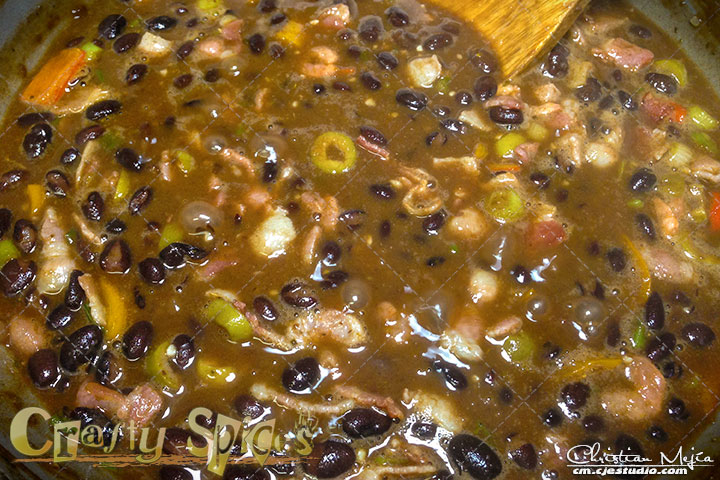 Directions
Cook the bacon for 2 to 3 minute so that it can release it's natural oil.

Depending on your bacon you will have enough oil on the pot to be able to sauté the veggies, if not go ahead and add EVOO, and let it warm up.

Add onions and peppers, cook until they start to feel soft reduce heat to medium

Wash and drain beans, then add them to the pot together with the garlic and tomato sauce, stir for a minute, add water, oregano, olives, baby shrimps, salt, and chicken bouillon cube (I like to crumble the cube as I put it into the pot).

Continue to cook for 20 minutes occasionally string

Take about half (you may blend all but we like to have some pieces in our cream) of the mixture and pour it into a blender, pure and return to pot.

Reduce heat to the minimum, stir well, add balsamic vinegar and cook for 2 minutes.

Remove from heat and serve.

Garnish with grated Romano Cheese and a few extra large Shrimps
We have made this
Cream of Black Beans with Shrimps
very thick and had it as a paste or spread to enjoy at a party with chips or bread.