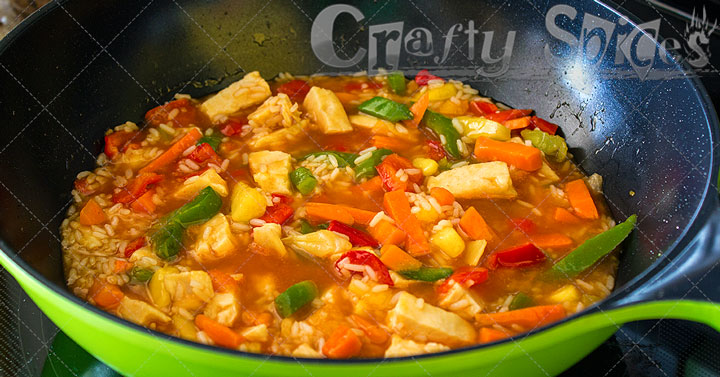 The Green Earth Pan's are eco-friendly and are constructed in a environmentally conscious way, they have a non-stick surface yet they are made without PolyTetraFluoroEthylene (PTFE) a synthetic substance that has waxy properties, at very high temperatures, PTFE begins to decompose and release fumes which are documented to be lethal to birds and small pets, and which can be harmful to humans, or PerFluoroOctanoic Acid (PFOA), which the EPA has classified as a 'persistent pollutant of the environment', instead they use a 100% ceramic coating called Thermolon (is a non-stick mineral-based coating with superior release properties) to achieve the same results without any side effects to humans. ThermolonTM non stick coating is heat resistant up to high temperatures. This means that GreenPan has a safety feature. If you accidentally overheat your pan, even up to 450C/850F no toxic fumes will be released and the coating itself will not blister or peel.
The 12-Inch Green Earth Wok seems to be a step up from other products that we have used. We notice and were surprised that it does not have the interior honey comb textured pattern that other Ozeri pans have, however we set ourselves to put it to the test. So far we like this wok and it has been working well for us.
Many people argue that the non-stick coating goes away fast, however in our experience it has not and we believe that it's a matter of proper maintenance.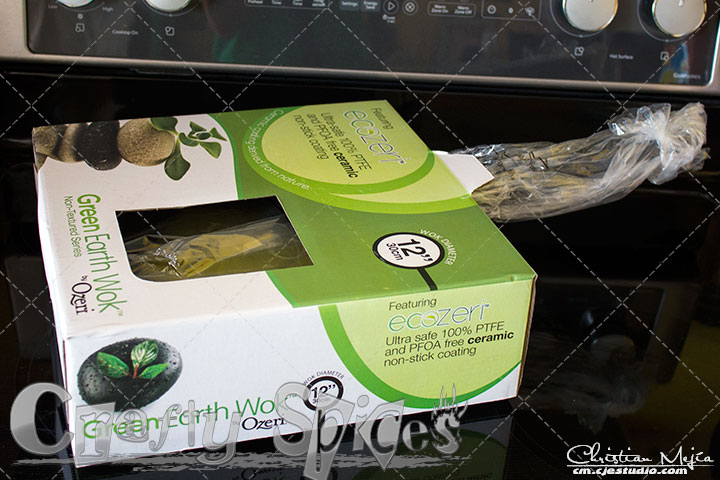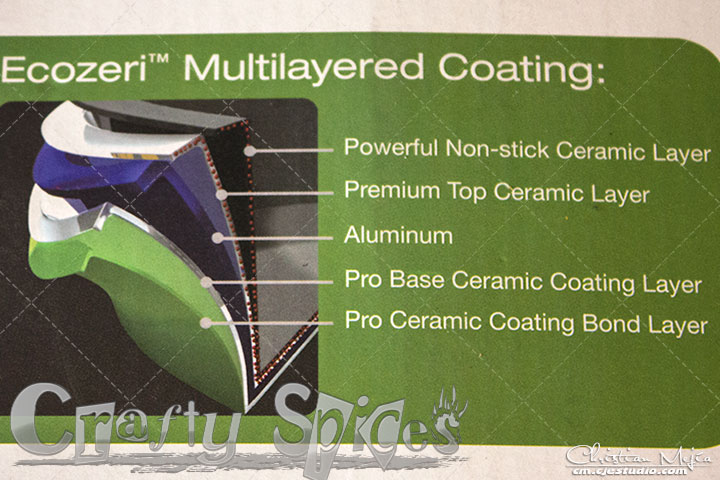 Features:
Unlike other ceramic cookware pans, the Ozeri Green Earth Wok utilizes an ultra-safe ceramic coating inspired by nature which is 100% PTFE and PFOA free.
Delivers unprecedented non-stick performance without releasing harmful fumes or toxins at high temperatures.
Features a scratch-resistant 100 percent ceramic coating that is super easy to clean.
Made out of durable heavy-gauge die-cast aluminum with no heavy metals or harmful chemicals.
Boasts a comfortable heat resistant Bakelight handle, and a magnetized induction stove safe base for rapid heat transfer.

Our Experience:
The very first time we used it, it worked wonderfully, nothing sticked to it, and the cleaning was very simple. After every use we clean it well, either let it air-dry or towel dry-it. Then we add either a few drops of extra virgin olive oil or vinegar, spread it with a paper-towel and remove any excess. We have a Glass Stove top and so far they all have work well, and are safe to use in this surface, the few scoff and marks that our Stove top has is because we use to have conventional pots that have a rounded bottom, this kind of cookware if not use carefully tend to be little abrasive to glass Stove Top.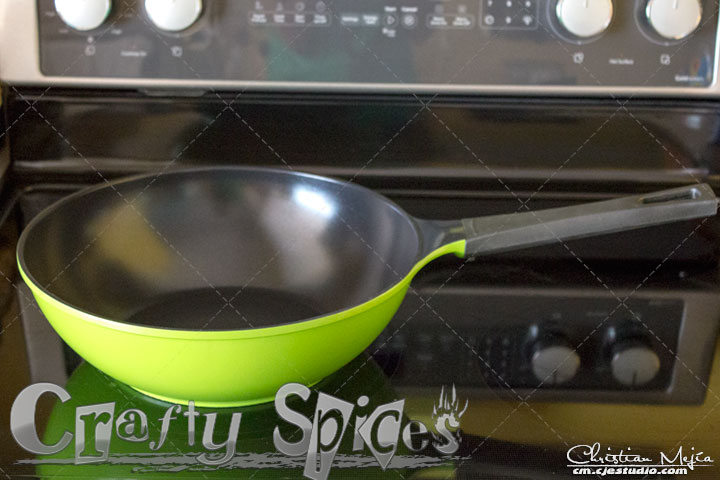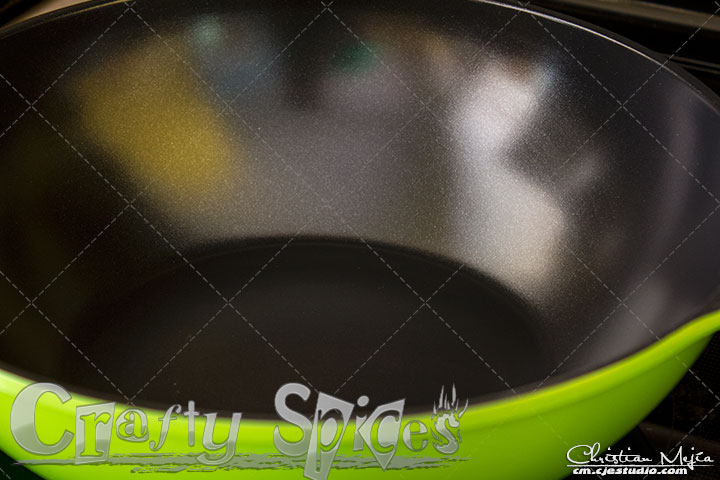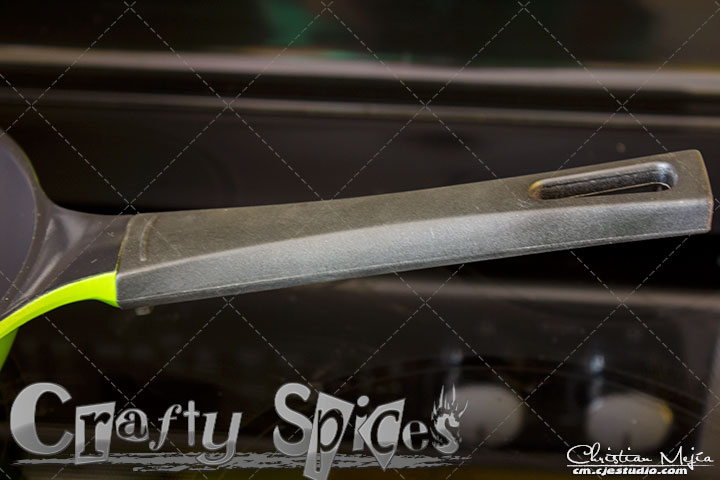 We have done a number of different meals and we have no complains with the exception of the constant maintenance that may not seem as a big deal but sometimes when we are short in time it is just something extra that we have to do.
Having this wok which is the perfect size (12 inches) for our family has really come handy and we would recommend it to anyone looking for a medium size non-stick wok.
Our favorite feature without a doubt like with other Ozeri Cookware, is that it has no chemicals and emits no harmful fumes or toxins that would be released while we cook our meals. As an added bonus this wok has a nice color and a good overall feel.
Another great advantage of using this wok and other Ozeri pans is the reduction in the amount of oil that it's needed to cook or fry.
We have more than one year with the 12"Pan from Ozeri and so far it is still performing as expected, the non stick surface is working well, and there are no signs of pealing or damage to the pan. Considering our prior experience with Ozeri pans our expectations for this wok are very high and hope to be using it for many years to come.
Our final Thoughts: In overall we think this is a nice, good-looking Wok made using no harmful chemicals. It is non-stick and does not release fumes or harmful toxins to the environment and/or into our foods. Works without or with little oil and it can be used to cook just about anything.

The Company and Purchasing Information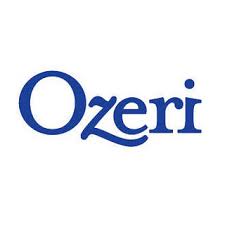 "Ozeri is a specialty manufacturer of digital lifestyle products for the modern home. Ozeri began as a supplier to the destination club market. This market spans vacation residences in the destination club industry, fractional residences, timeshares, and condo hotel apartments.
The Green Pan line is only one of the many products that Ozeri offers. You may learn more about the company and it's products by visiting there WebSite
To purchase the 12-Inch Green Earth Wok by Ozeri go here