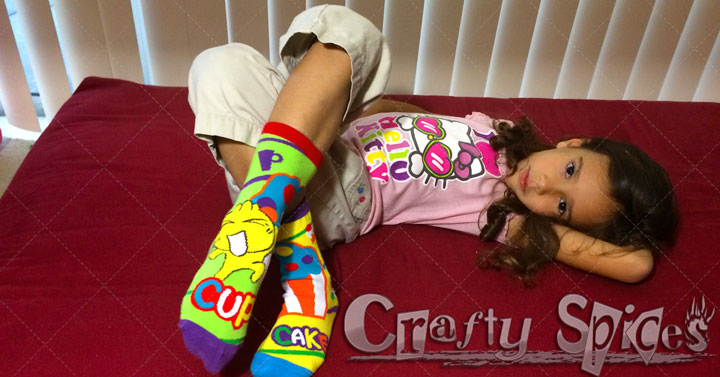 This is a creative way to motivate kids to practice different concepts. Education can be addressed in many ways, from the moment we had our first child we have practice what we call "learn as we go" meaning we like to incorporate some type of a learning experience into as many things that we do with our girls as possible.
Product such as these compound words socks make our job as parents and educators easier. These are Mix and Match socks, very colorful, designed to have one word on each foot and ones the two feet are together they will form a compound word with a cool drawing that represents the items being mention.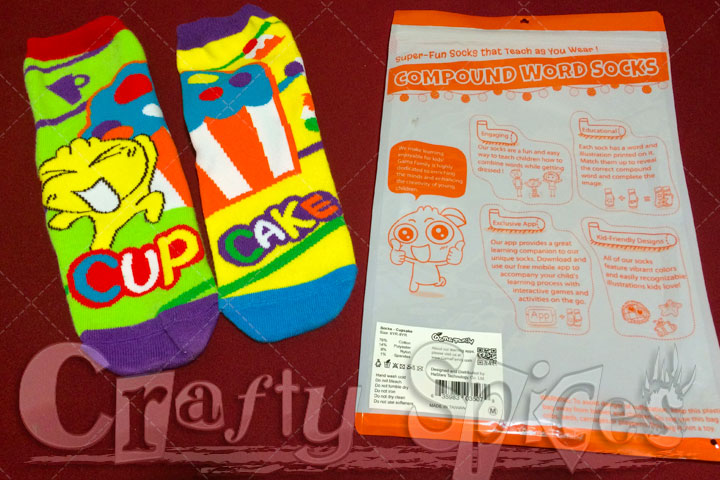 Kira choose the cup + cake = cupcake, yet they offer a number of pairs such as:
lady + bug = ladybug
egg + plant = eggplant
star + fish = starfish
fire + truck = firetruck
butter + fly = butterfly
rain + bow = rainbow
tooth + brush = toothbrush
sun + flower = sunflower
lip + stick = lipstick
sun + glasses = sunglasses
Part of the fun would be matching up to create a compound word, however this "game like" really only makes sense if you have a few pairs so that the child can read the different words and combine two creating a compound word. The only problem with this is that the socks are sold by pair (1 compound word), it would make more sense if they would come a minimum of 3 pairs in one pack.
Watch the video below to see and hear what Kira has to say about her new Educational Compound Word Socks:
The company behind these cool socks is Gama Family, they also offer an app to play along and work on enhancing vocabulary and for children to learn more compound words. The app is fun, it even makes a cool animation ones a compound word is made, children really like it, and it's free.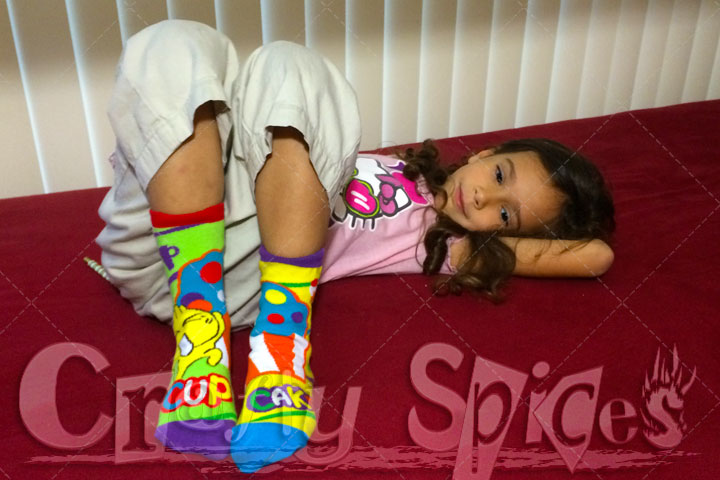 We notice a big design difference and lack of relationship between the socks and the app. Other than the fact that both items are meant to learn compound words, they have nothing in common. The design of the app reminds me of halloween, probably because of the skeletons and the dark colors, contrary to the bright vibrant colors on the socks.

Purchasing Information
To see all the different designs and to order you very own pair of click HERE
{xtypo_sticky}
Disclosure:
I received one or more of the products mentioned above in exchange for my honest oppinion. Regardless, I only recommend products or services that I personally use and believe will be good for my readers. Affiliate links may be included, for our full disclosure and PR Info
Click Here
.{/xtypo_sticky}