I have to admit that in yesteryears I was one not to be a fan of soups, yet I have grown to love them, it's a good way to still eat healthy veggies and not have to eat them the old fashion way. Our girls so far like soup and enjoy all the creamy tasty soups that we come up with. Most don't really have a science to them just add a few veggies into stock and rather eat them all like that or toss them into the blender. Anyway I hope you make and like this soup.
Ready in:
55 Minutes
(
20 Prep
-
35 Cook
) | Serves:
4 - 5
| Complexity:
Easy
Ingredients
3 tablespoons Extra Virgin Olive Oil (EVOO)

4 cups good-quality chicken stock

4 cloves garlic, minced

1 large can (28-ounce) crushed tomatoes

1 red onions, chopped
1/4 tsp Kosher salt

1/4 tsp Freshly ground black pepper

3/4 cup heavy cream

1 cup chopped fresh basil

1 ounce shredded Asiago cheese

1/8 cup chopped green onion
Directions
Heat EVOO in saucepan over medium to high heat, ones it's hot add onions, sauté for about 7 minutes or until onions are just starting to become golden brown, then add garlic stir to avoid burning garlic for about 1 minutes.

Stir in the chicken stock and the crushed tomatoes, season with salt and pepper and occasionally stir util it is boiling, then reduce heat and continue to simmer for another 15 to 20 minutes.

Now dump everything into the blender, puree until desired consistency (smooth and a bit creamy) and return to the pot.

Place pot over low heat add cream, half of the green onions, and basil, simmer for another 20 minutes.

Serve warm and top with shredded Asiago Cheese, remaining chopped green onions, and a basil leaf (I chopped all my basil and forgot the garnishing ones).
This
Creamy Tomato and Basil Soup
is great for a day when your love one is feeling down or one of does cold evenings that are sure to be coming up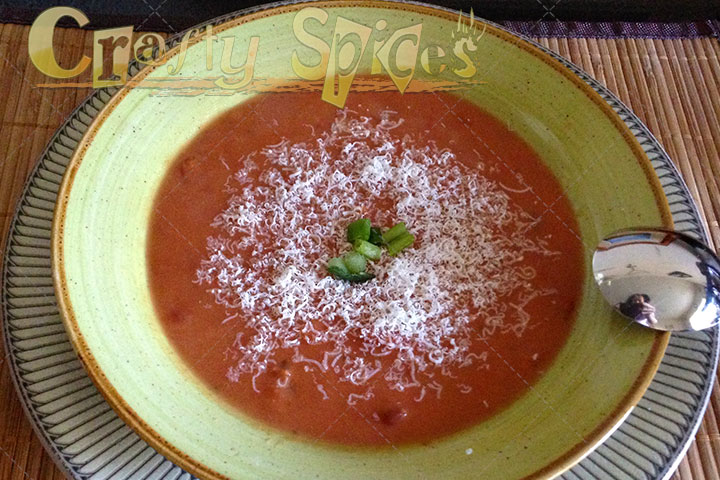 Have fun, and Enjoy!!