It's great for does that have a sweet tooth as it has a sweet kick to it. And if you are counting calories, instead of using jam (I use homemade), use freshly cut/mashed peaches.
Ready in:
50 Min (20m prep, 30m cook)
| Serves:
4 - 6
| Complexity:
Medium
Ingredients
1 Savory Roast Turkey Breast tenderloin
1 tsp Garlic Salt
3 tsp Oregano
2 limes, about 3 tbs juice (you can use lemons)
2 Garlic Cloves
4 tbs Sofrito
4 oz Mozzarella Cheese
1/2 Cup Peach Jam
Butcher's String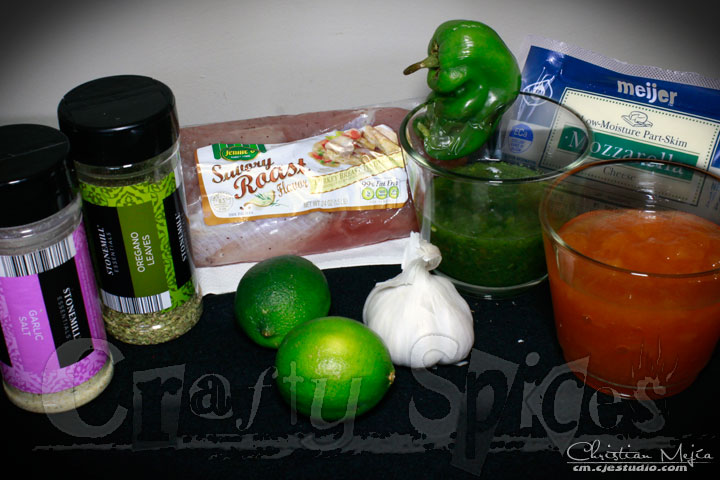 Directions
Preheat oven to 350F (180C)
Take Turkey breast tenderloin and butterfly cut it.
Season with sofrito, and set aside unrolled
Meanwhile cut mozzarella cheese in 1/4 inch slices.
Peel and cut garlic cloves.
Spread garlic over inside side of turkey, and add about 1/4 cup of peach jam
Place cheese over jam, 2 tsp of oregano over cheese, and add an additional 2 tbs of peach jam over oregano.
Roll up Turkey Breast tightly and firmly, then tie with string.
wash with lime juice and sprinkle with garlic salt and remaining oregano
Place in oven until a thermometer inserted into thickest part of turkey reads 160F (70C), approximately 30 minutes (depending on oven).
Remove from oven and let stand for 10 to 15 minutes.
Thickly slice, drizzle with a mixture of peach jam and lime.
Serve warm, great with veggies or rice and beans.