Ready in:
30 Min (7m prep, 16m marin, 7m cook)
| Serves:
4 - 6
| Complexity:
Easy
Ingredients
6 fillets Tilapia (Apx. 5 ounce each)
1 cup chopped toasted almonds
1/2 cup flaked coconut (Optional)
4 tbs Pampered Chef Coconut Lime Sauce
2 tbs Lime Juice
2 Garlic Cloves (sliced very thin)
1 tsp garlic salt
2 tbs Extra Virgin Olive oil (EVOO)
1 tsp Browning & Seasoning Sauce (Optional)
1 orange pepper
Nonstick Olive oil spray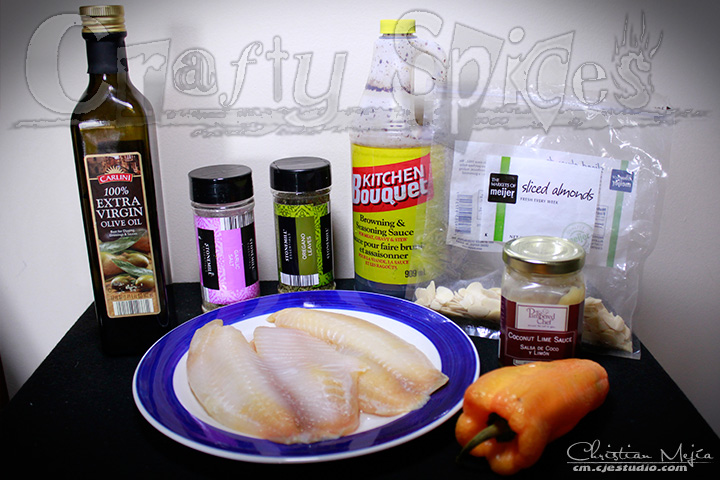 Directions
Wash Tilapia well, season with 1 tbs EVOO, lime juice garlic salt and oregano, let rest for 16 min in the refrigerator
Cut orange peppers in thin strips
Spray some nonstick Olive Oil on a frying pan
Place peppers and half of the garlic in frying pan at low heat for 2 to 3 min
Take Tilapia out of the fridge and add 2 tbs Pampered Chef Coconut Lime Sauce
Place Tilapia on frying pan with the sauced side down on top of peppers and garlic
Add the remaining Pampered Chef Coconut Lime Sauce, EVOO and Browning & Seasoning Sauce over the fish
Cook 3 min on each side or until golden (don't overcook)
Remove from frying pan
Add almonds to frying pan for 1 min or 2 min.
For additional texture and coconut flavor include coconut flakes in frying pan with almonds.
Spread almonds and coconut flakes over cooked Tilapia, you can add some extra uncooked coconut flakes before serving.
Serve warm.
As seen in the picture we like to eat this fish with vegetables. Hope you like it.