In this case we had some pulled pork leftovers and we did not feel like cooking something from scratch, while we were at the grocery store we grabbed 2 bags of Steamfresh Roasted red Potatoes that can easily save a meal, however what if we make them even more interesting and tasty by adding a few ingredients. The below recipe was the result, and since then we have done this a few times.
Creating a new tasty recipe out of pulled pork leftovers and Microwavable potatoes has turned out to be very yummy.
Ready in:
18 Minutes
| Serves:
2 - 3
| Complexity:
Easy
Ingredients
2 bags of Steamfresh Roasted red Potatoes

4 hard boil Eggs

1/3 can of Alfredo source with bacon

1 cup left over Pull pork

Pinch of Salt

1/2 Can of Corn kernels
1/2 can of green beans

1/2 can of Carrots

1/2 pound of cubed mozzarella cheese

1/2 pound of cubed swiss cheese (Optional)

1/4 Cup fresh bacon bits (Optional)
Directions
Microwave separately each bag of Steamfresh Roasted red Potatoes for about 6 minutes each, let it rest for a minute.

Combine corn kernels, green beans, carrots, mozzarella cheese, and swiss cheese (if using) in a bowl.

Add Potatoes, and the leftover pull pork. Mix together

Add Alfredo sauce, cubed eggs

Top everything with beacon bits. (If using)

Serve and enjoy.
The
Microwave Potato Pulled pork
is as simple as they get. Try it and let me know what you think.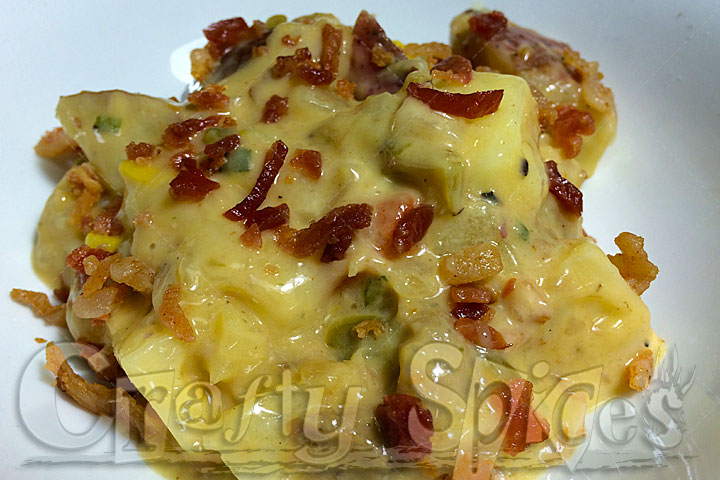 See you next time!!