It's a great Salmon, veggie and cheese mix to be wrapped in a whole wheat crepe. We are featuring this recipe with salmon, yet you may try it with any type of fish.
Ready in:
15 minutes + 20 Minutes (Basic Crepe)
| Complexity:
Very Easy
Ingredients
Basic Whole Wheat Crepes (2 per person)

1 Large Can of Pink Salmon

2 1/2 tbsp. butter

4 oz reduced-fat cream cheese at room temperature

2 - 3 orange peppers chopped

hand-full of fresh Spinach washed, drained and chopped

2 tbsp Whole wheat cornstarch (Optional)

Your choice of Cheese, we use Swiss cheese (1 slice per crepe)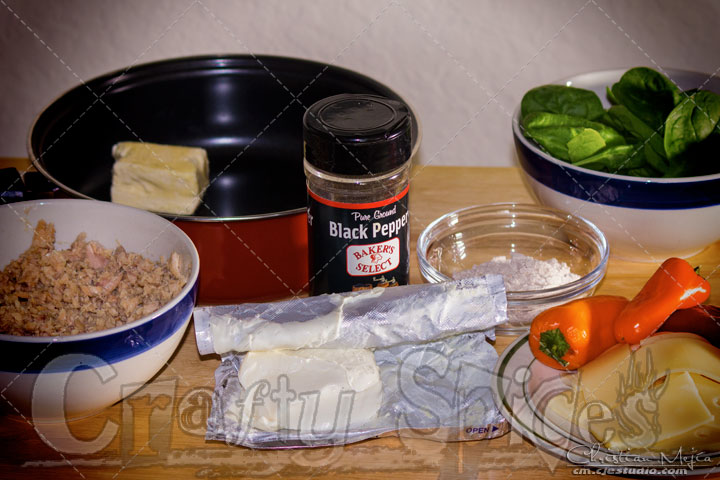 Directions
Melt the butter in a pan over medium-high heat.

Add orange peppers and spinach. Cook for about 3 minutes.

Then add salmon and black pepper, cook for another 2 minutes before adding cream cheese

If you would like the mixture thicker, dilute cornstarch in 1/4 cup of water and add to pan mixing constantly.

The Salmon mix is done, now to assemble the crepes:

Place about 2 tbsp over the center of one whole wheat Crepe, add strips of cheese and roll it, place on plate with joints to the bottom and garnish as desired.
Having fun with Crepes yet?