Ready in:
50 Minutes (20 Prep - 30 Cook)
| Serves:
4-5
| Complexity:
Easy
Ingredients
4 to 5 Large Green

Plantains

Medium to large Saucepan (aprox. 12")

Aprox 3 Cups of Water (enough cover plantains)
S

alt

to taste (aprox. 2.5 tsp)

2 to 3 tbs Butter or Margarine

1 to 2 tbp Extra Virgin Olive Oi




Optional

:
2 to 3 Clove

Garlic (Minced)

3/4 Cup Milk
2 to 3 tsp Bacon Bits
2 to 3 tbs Grated Cheese
1 or 2oz Cream Cheese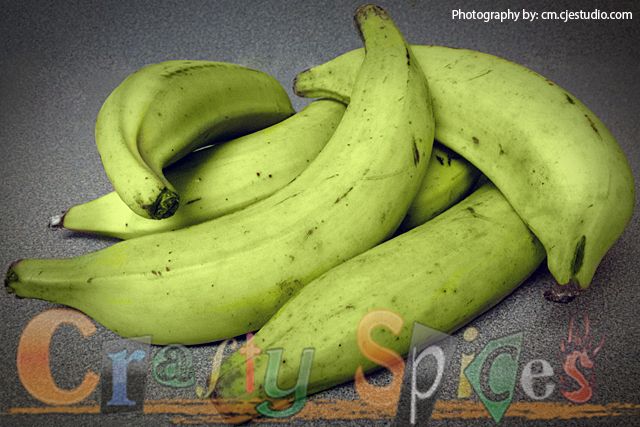 Directions
Peel* (

most people peel the plantains, we just cut the ends and score them, but they take a bit longer to cook) and cut plantains into 3 or 4 parts.

Place water, salt and plantains into saucepan, bring to a boil, and cook for about 20 to 25 minutes, plantains should be tender but slightly firm.

Remove from stove, at this point

plantains skin should be mostly loose, remove

and dispose of them (if not done so before), drain water, reserving 1 cup of the liquid.
In a large bowl, mash plantains with the reserved liquid and butter/Margarine.
If you are adding any or all of the optional ingredients, this is the time to add them.
Drizzle Extra Virgin Olive Oil after platting.
Suggestion, serve with:
Saute or slow cooked onions (picture above), sausage or salami (picture above), fried or
poached
eggs, cheese, bacon, etc.
* To peel the plantains cut off the ends, make 2 or 3 scores on opposite sides lengthwise, insert knife into one of the scores and peel off that part, then do the same to the other side, and repeat until completely peeled.

Questions and comments are always welcome.
Thank you and enjoy...