When we receive Telestrations for review, I was so excited I mention it to a couple of friends and we had to schedule a game night as soon as possible, we all wanted to play.
Play, write, draw and have Fun!
Telestrations
By their own words "Draw what you see, then guess what you saw. All players simultaneously sketch, pass, guess & laugh to reveal hilarious and unpredictable outcomes!"
Is an easy to play family game that comes neatly package in a box containing:
Over 1,1700 words (Cards: This side / That side)
8 Erasable Color Coiled Sketch Books/il>
8 Dry-Erase Markers
8 Clean-up Cloths
1 60 second sand timer
1 die
Instructions Manual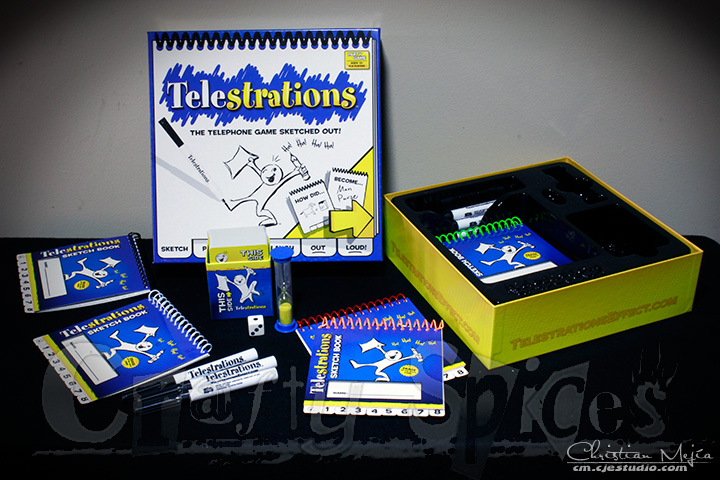 It's very simple to play and up to 8 players can play at a time, each player receives an erasable sketch book (they all have different color coiled for easy identification), a dry-erasa marker, a clean-up cloth and a word card.
Playing the Game!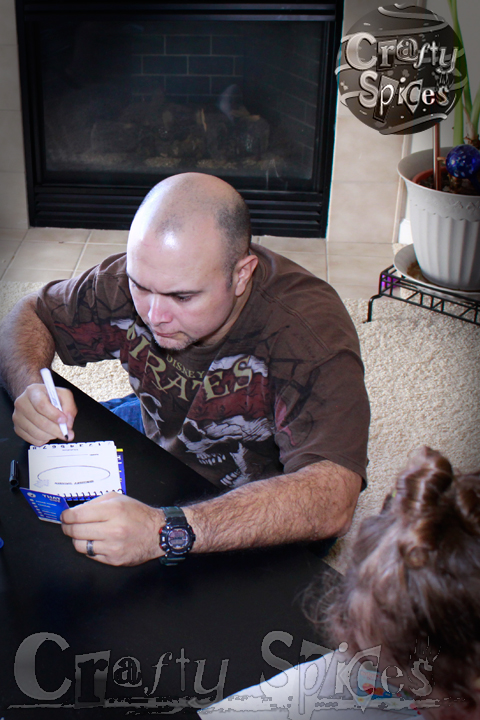 Telestrations turn out to be more than a game, it was fun and laughter in a box, the things that we came up are hard to describe, yet hilarious. Needless to say we stayed up almost all night as we could not get enough of it. One thing I love about this game is that is all about interaction and not so much focus in a board game.

This is how we played: after everyone got what they needed, we decided what side of the cards to play (blue or yellow), then one of the players threw the die to select the word from the cards (per person) that would be played, and then we started by writing this word on the sketch book and passing to the next player as the sand timer would run out. Ones we would get our own board back, that is really where the fun kicked off, as we all revealed what was the original word and the final result/guess.

So now you know how we played, but you have no idea as how much fun we had, another good thing about this game is that even though there is drawing involved you really don't have to be good at it, many times less is more (more fun) for all, because the final result is even more funny.

Pros: It's easy, fast to learn, not much to set up and much fun.
Cons: The only thing that we found is that the small clean-up cloths are to small and get misplaced easily, it would be nice if the pens had a small eraser attached, this would eliminate the mistplacement and the job could be better done.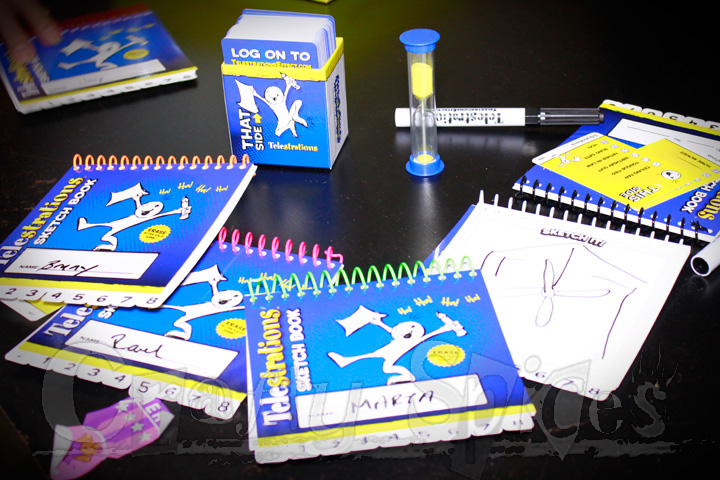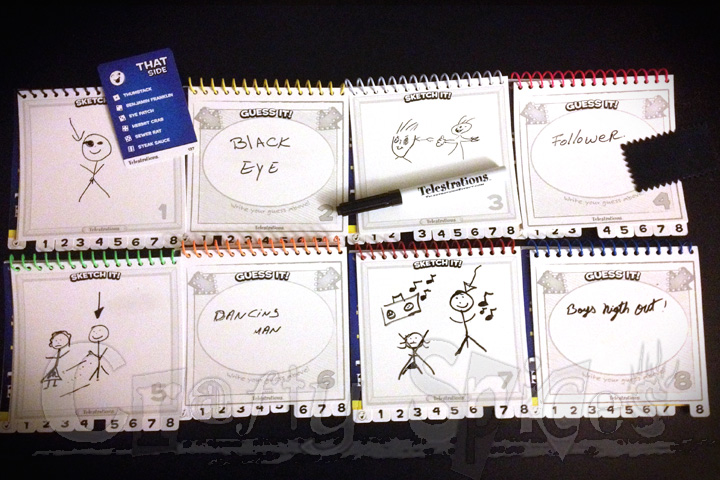 Our final thoughts: We really enjoyed playing this game, it's fun and very entertained. I recommend Telestrations for everybody that likes to have a great time playing with family and friends.
The Company and Purchasing Information
This interesting and fun game is created by USAOPOLY, Inc. The company began in 1994 with the idea of a twist on the traditional Monopoly, these days they are a well established developer that bring to the public great games including interesting twists to classic games like clue, Yahtzee, Jenga, Chess, Checkers, Tic Tac Toe, Dominoes and many others.
Find Telestrations on: The Web, Facebook and Twitter.
Buy It: Some places where you can buy the game Telestrations are: Amazon, Go Games, Target, JC Penney's, Barnes and Nobles.
Win It:
Join via the Rafflecopter for a chance to win a Telestrations Game. This contest is open to all U.S. residents age 18 and over, void where prohibited. Entries will be accepted until 12:01 am EST on Friday, November 09 2012. The winner will be announced in the following days and will have 48 hours to respond, if not another winner will be selected. Good Luck.
a Rafflecopter giveaway
Giveaway Embed Code: Use the following embed code to put this giveaway widget on your site.
{xtypo_sticky}
Disclosure:
No monetary compensation was given for this post. I received a Telestration Game to facilitate this review. All opinions are 100% honest and my own. For our full disclosure and PR Info
Click Here
.{/xtypo_sticky}