So when we learned about Kidz Gear we wanted to know more about them, and so we were very excited to try the first kids headphones that we had heard about "Kidz Gear"
A big Thank You to Natasha from "Epic Mommy Adventures" for choosing to Co-host this event with us, be kind and stop by to say hi to her.
Headphones made specially for kids!
Product Description:
We received a set of Headphones, a 3.5 Stereo Headphone spitter Cable and a Carry Bag.
The Headphones: They are available in different colors, we chose the green ones, they came in a simple and very appealing packaging. These headphones are made of a strong durable plastic, an adjustable headpiece, the ear-buds or ear-cushions material is a soft silicone, and just the right size for kids, they have a built-in Volume Control knob and also comes with a KidzControl Volume Limit Technology cable to protect eardrums.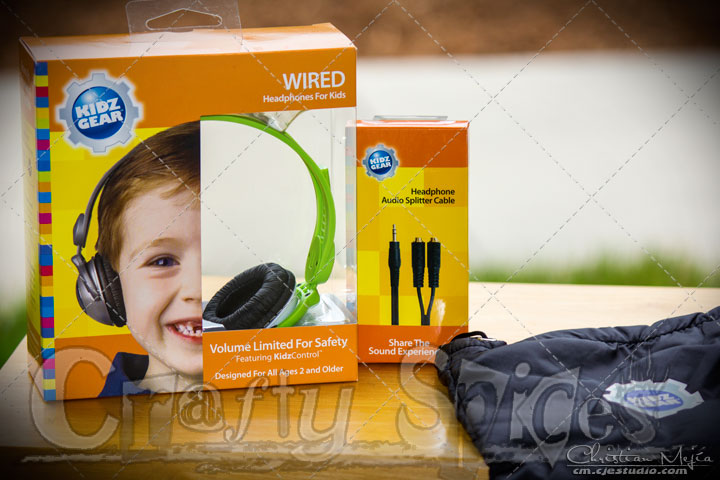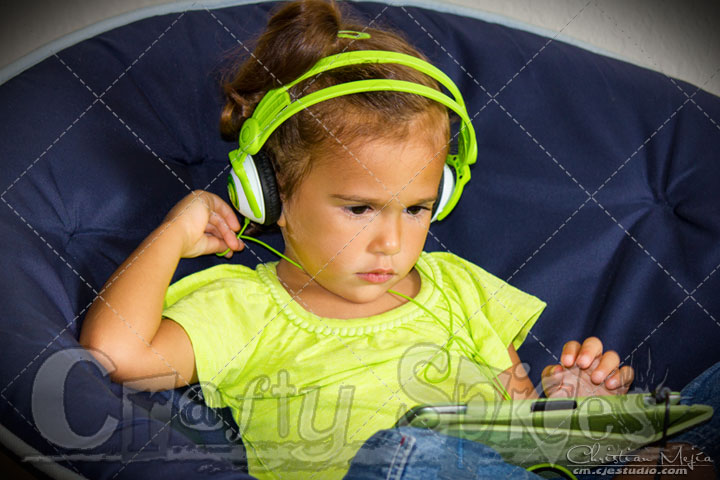 The 3.5 Stereo Headphone splitter Cable: a high quality splitter that allows 2 headphones to be connected listening to the same device.
The Headphones Carry Bag: It's a black, simple padded, drawstring closing Carry Bag to store and protect a pair of Kidz Gear headphones. It's made with durable materials and has an approximate dimension of 8 x 0.5 x 8 inches witch is large enough to hold the headphones the splitter and still have room in the bag.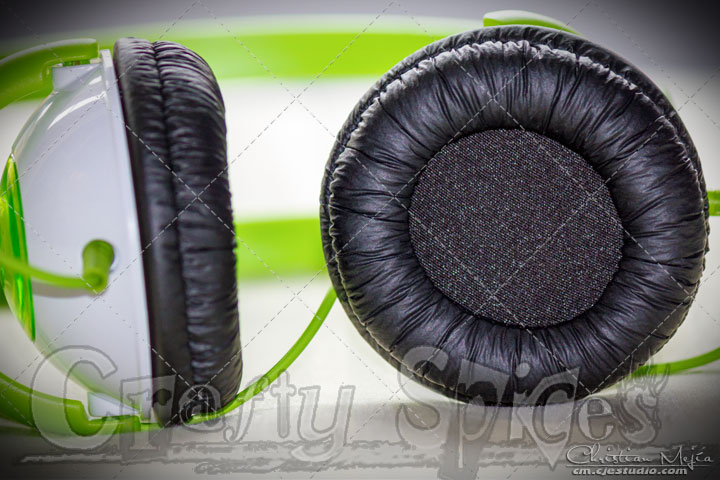 Silicone Ear-buds or ear-cushions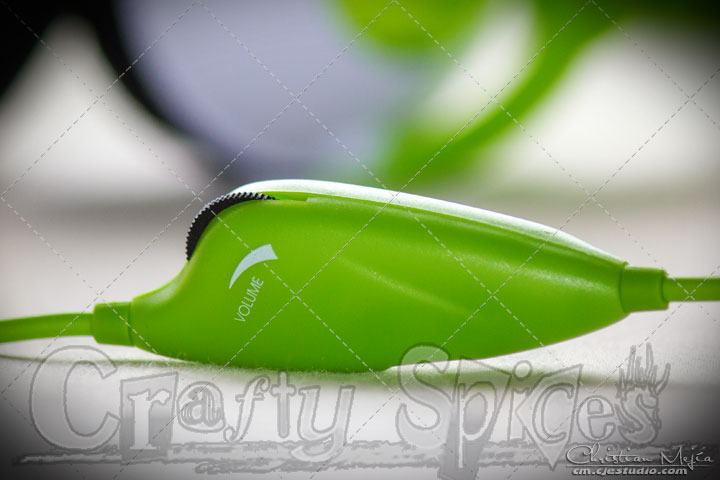 Built-in Volume Control knob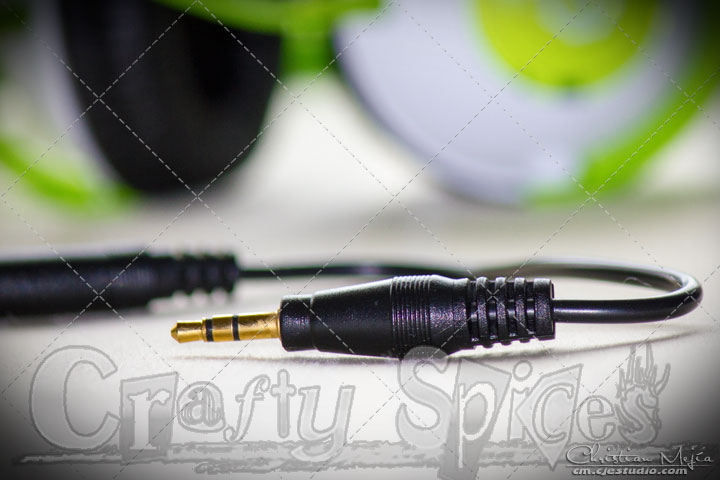 KidzControl Volume Limit cable

Our Experience and opinion: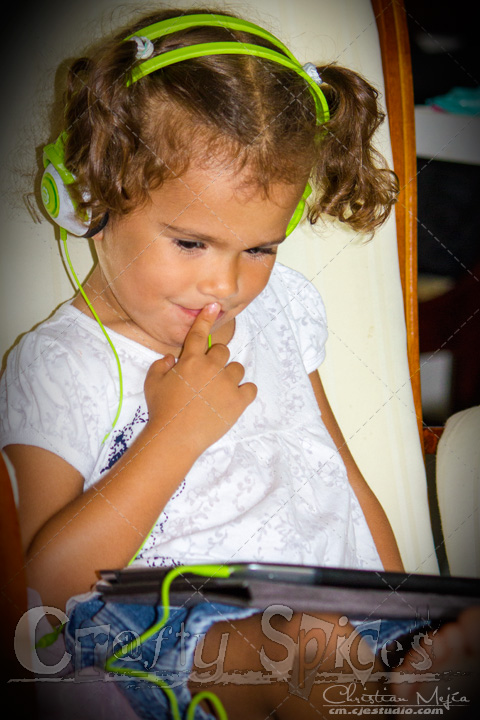 Either at home, at friends house, or on the go, Kidz Gear has proven to be a great companion and the best headphones for our little Girls. Kira really likes the vibrant green color, enjoys the volume control knob, and most of all she loves that they don't fall off; we as parents love: the volume limit control cable that protects her eardrums, the soft buds that don't hurt her ears, and that the head-piece is very easy to adjust to the size of her head (she can adjust it on her own).
We are always on the go and the carrying bag has really come in handy, where ever we go the Kidz Gear Headphones comes with us in it's very own carry bag, and since it has the Kidz Gear logo there is no questions ask as to what is in the bag, we know it and now so do our friends and family.
As for the stereo headphones splitter cable at first I didn't think much of it, then there was a day at a gathering when Kira was watching a video using her Headphones and a friend sat down next to her to watch it as well, since adults were talking we did not want the sound of the video adding to all the chitchat and that is when it occurred to me that we can use the splitter, Oh my... It literally came to save the day, the girls continued watching and listening to their movie while Grown-ups continued to bla bla bla. Since that day we have used it many times, it really comes in handy especially having two girls.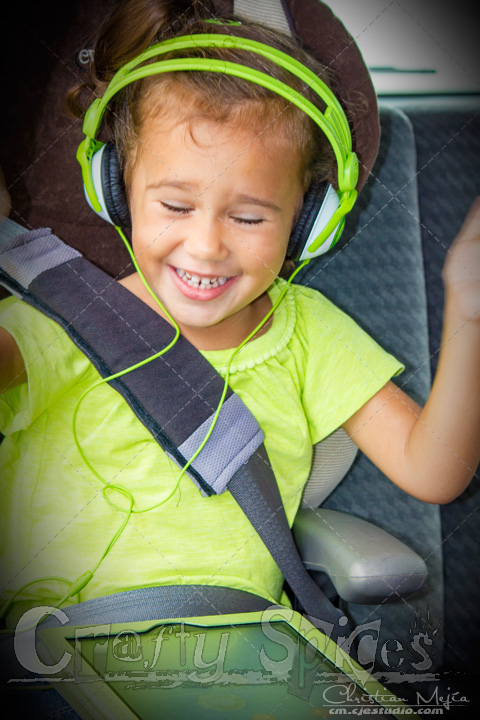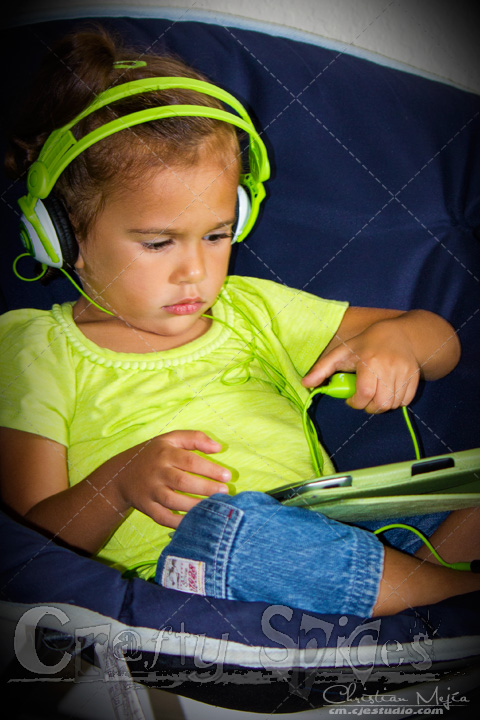 7 reason to use Kidz Gear Headphone:
Kids love to have their own gadgets
Kids love the vibrant colors offered
Volume limit control cable protects little eardrums
Kids love that they can "Control the volume" with the build in knob
Soft ear-buds for delicate little ears
Head-piece easily adjustable to any little head
Mom & Dad can say my headphones are "My headphones" and can stop saying "Where are my headphones"

We feel so comfortable and at ease with kidz Gear Headphones that we have left even our little one year old Kaylee use them while watching educational videos on the IPad.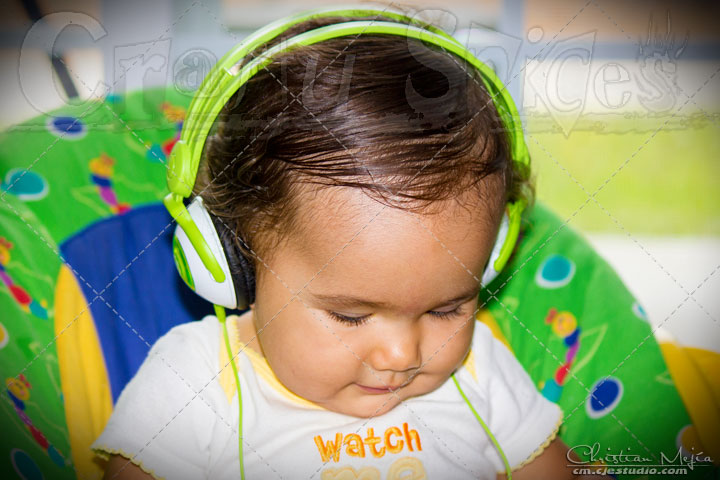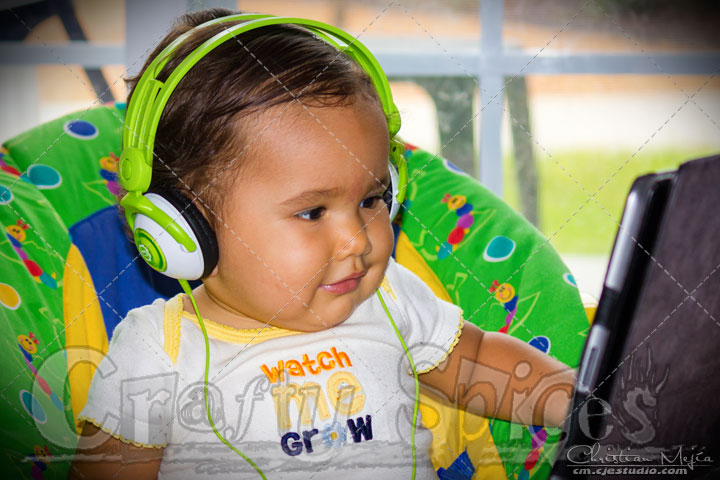 Pros: The list above covers it. Summarizing it up I would say they are very easy to use, and safe for our little ones.
Cons: The "Volume limit Control" is not a built-in feature but a small separate cable that you connect to the headphones. I guess this way you could use it on any other device.
Our final thoughts: We give Kidz Gear a thumbs up. We recommend these headphones and accessories to parents that are looking for a set of headphones for their kids while also having peace of mind.
The Company and Purchasing Information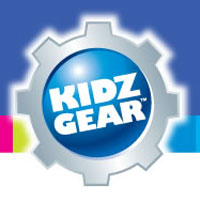 Kidz Gear was founded by a mom whom got tiered of purchasing headphones for little ones just to find out they were made poorly and did not meet her or her children's needs.

To find more information about Kidz Gear visit them:
Website // Facebook // Twitter

You may order directly at Kidz Gear Website or via retailers like Target and Amazon.
Win It:
Follow the rules on the Rafflecopter and enter for a chance to win your color choice Kidz Gear Headphones, carry bag and splitter cable.. This contest is open to all U.S. and Canada residents age 18 and over, void where prohibited. The winner notified via email, he or she will have 48 hours to respond, if not another winner will be selected.

Prize will be shipped directly from Kidz Gear to the winner.
Good Luck.
Current Giveaway embedded Code:
{xtypo_sticky}
Disclosure:
No monetary compensation was given for this post. I received a product to facilitate this review. All opinions are 100% my own and may not reflect those of others or yourself. All entries will be verified. For our full disclosure and PR Info
Click Here
.{/xtypo_sticky}