This is a tasty Rice Pudding, great for any occation, serve as snack or dessert.
Ready in:
28 Minutes (10 prep, 18 cook)
| Serves:
2 - 4
| Complexity:
Easy
Ingredients
3 cups So Delicious Vanilla Almond Plus Almond Milk

2 cup water (divided 1 1/2 and 1/2)

1/3 cup brown rice

½ tsp salt

2 tsp vanilla

1 cinnamon stick

5 Tbsp brown sugar

½ tsp ground cinnamon

¼ tsp ground cloves

¼ tsp ground pepper

1/4 cup chopped cashew nuts (optional)

1/4 cup chopped almonds (optional)

¼ cup dried cranberries (optional)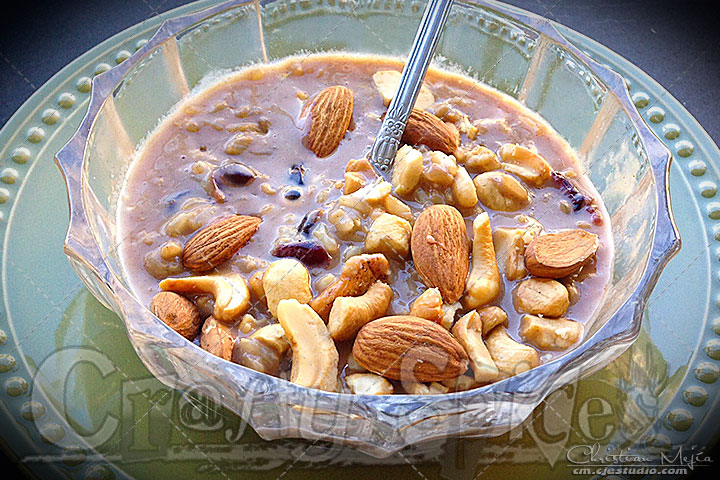 Directions
Place brown rice in a bowl with water for 30 minutes.

Drain water from brown rice, place in a saucepan with almond milk, 1/2 cup water, dried cranberries, cinnamon stick and salt. As soon as it stars boiling reduce heat and simmer for about 20 minutes, or until most of the liquid has been absorbed.

At this point you may remove the cinnamon stick, add brown sugar, cinnamon, cloves, pepper and stir well and continue to cook until you reach the desired consistency (some like it more liquid then others). For a more thicker consistency cook for a longer period of time, I would not recommend more than 10 minutes.

Remove from heat, serve toped with almonds and cashews.
This is it for our monday recipe:
Almond Milk Rice Pudding

Learning Time

Fun educational activities or questions to do with little ones while preparing this recipe.
This could be a measuring experience, take advantage of all the ingredients that you have to measure. Make you little helper the official measuring person (supervised of course), define measurements take this opportunity to introduce fractions how in one cup there are 4 quarters (for there understanding use 4 - 1/4)
Since this recipe uses Almond Milk, to talk to you children how is almond milk done. I promised Kira that we will buy almonds to make some Almond Milk at home (It's very easy and yummy).
Have your little one help washing the brown rice, talk about why we wash it and how do rice grows. Afterwords google rice plantation and show it to them. Kira was very impressed and curious about it.
After having all the ingredients have the little one count the total number of ingredients for the recipe, then separate the ones going in first and subtract them from the total number. You may work back and forward on this one and have them add and subtract multiple thing. It will all depend on you time and patience.
As the liquid consumes explain how liquids can become thicker. (Depending on age can go into more details)
Use your better judgement to change, add or subtract things in order adjust to the age and level of your children. But always remember that there is an opportunity for teaching and learning in every activity that we do.

Hope to see you next time.
If you have had a recant teaching-leaning experience of your own we would love to hear it.