It was a Saturday morning and we were out and about with our girls and some friends. Conveniently located in the Crossroad Plaza near to the Downtown Disney is the Argentinian Restaurant called "The Knife" we've had the pleasure to have been asked to visit and review this location so we decided to make it happen that day and have our family lunch there.
As we enter the restaurant we were welcome by a hostess and escorted to our table, shortly afterwards we were greater by a gentlemen that introduces himself and said he would be our waiter for the day. Hi kindly explained to us how The Knife works, showed us to the salad bar and the grill, then gave us some time to decide on drinks and side dishes.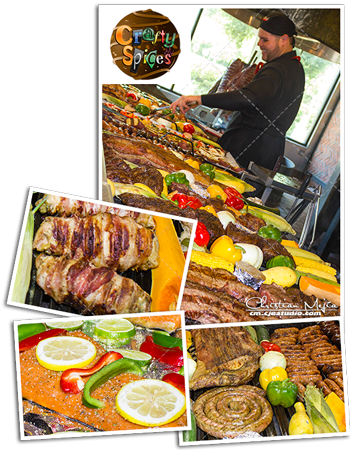 The Knife is a buffet style restaurant, but we are not talking about your average Buffet Restaurant. At The Knife a regular per person meal includes: all you can eat from the grill, including tasty meat prepared in a number of different ways, pork, chicken, veal, vegetables and fish; order from a variety of side dishes like french fries, sweet potato fries, empanadas, etc and the waiter or waitress will bring them to your table freshly done; all you can eat traditional and non traditional salad and appetizer bar such as nuts, hams, cheese, greens, delicious bread rolls filled with different spreads, and much more; to drink you get to choose from: a bottle of wine, 2 beers, or soda with free refills.
Besides everything that we have mention all included, they also have a great bar that offers a number of interesting both alcoholic and nonalcoholic beverages to choose from for an additional cost.
We ended up ordering a Mango Margarita, a Fruit Sangria and for the girls got a Lite-Up Flash Drink and they got to keep the cup. While the Sangria was elegantly served, had plenty of fruits and was very good; my favorite drink of the night was the Mango margarita, it was served in a large cup, was very tasty, the mango shined and the alcohol level was just right.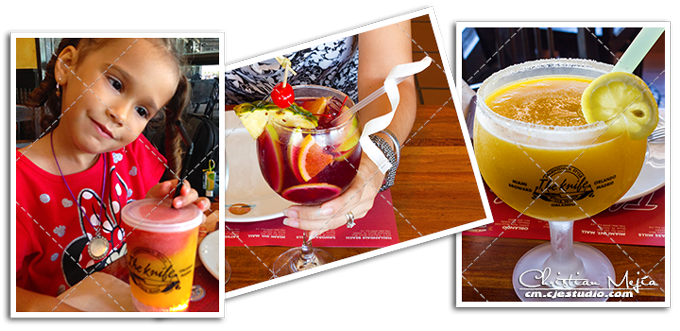 These were the great beverages that we ordered.

It's normal for us to eat salad before our meal, so we headed to the salad bar and were happy with our findings, plenty to choose from, so we prepared our plates with a couple of different types of salads. Kira loved a potato like salad that had green apples and eggs, I really liked the greens with nuts and the bread rolls which I am for sure going to try to replicate one of these days.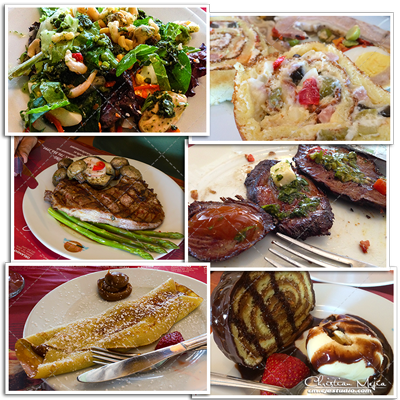 It was now Meat time, when it comes to food my husband loves a well cooked meat, my take is that he was very happy since we went to the grill a number of times and he even ordered to his preference not sure what type of meat. I was actually happy with some ribs and a grilles salmon, although I have to say that a sweet and sour sauce would have gone very well over the salmon, since I did find it a bit dry for my taste.
The girls I thing ended up trying a bit of everything and luckily had no complains, we are so proud of them they eat just about anything we give them. For dessert since we are big fans of Dulce de Leche, we ordered the "Dulce de Leche Crepe", as it's name says it's a crepe but filled with warm dulce de leche cream and topped with powdered sugar; we also had the "Dulce de Leche Roll with Gelato" a sponge cake rolled around creamy dulce de leche, covered of chocolate and served with gelato. Both were very tasty but our preferred one was the "Dulce de Leche Crepe"
Lastly I have to say that the Decor at the restaurant is very simple, as a typical Stakehouse, with open air-ducks industrial looking yet appealing and with a good ambient.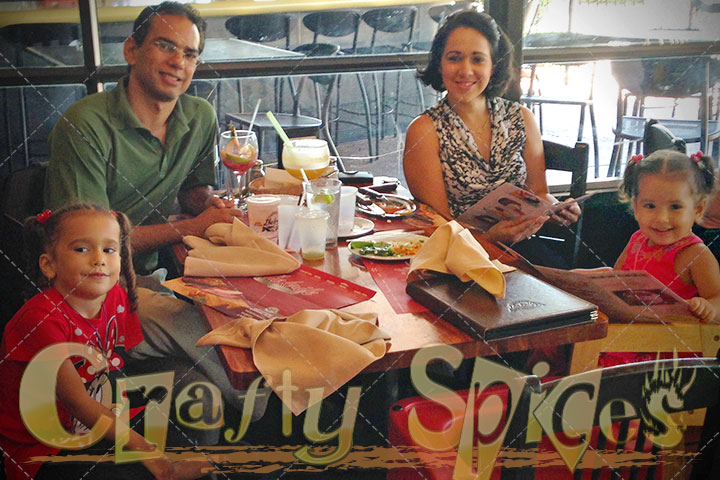 I took the liberty of asking if it was the same cost week-long and it's good to know that they offer a Special Lunch Monday thru Friday ending at 4pm at a lower cost.
The Knife was a great choice for the day, not to mention our timing was perfect since by the time we were leaving I found out that this restaurant is no secrete and seems to get busy with people eager to eat the tasty food served at this location.

The Company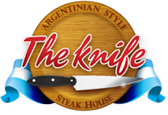 The Knife
Is an Argentinian Style Restaurant with location in Miami & Broward, in Orlando and Madrid. Their experience in the restaurant business goes back to 1986 in Argentina, from their they have been expanding to bring us top-choice meats grilled to perfection.
To learn more about The Knife visit/follow them at:
Their Website
//
Facebook
{xtypo_sticky}
Disclosure:
No monetary compensation was given for this post. My family and I received a free meal in exchange for our review and honest opinion. We were not compelled or required to write a positive review, all opinions expressed are 100% our own and may differ from others. For our full disclosure and PR Info
Click Here
.{/xtypo_sticky}