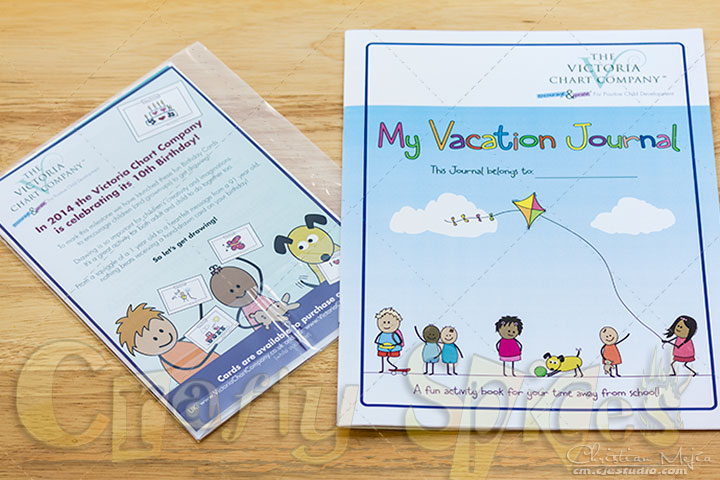 As you may all know by now, even though our Girls are very young, we absolutely love spending time with them and doing fun activities.
We are always planning a project, a craft and looking for ways of having fun while creating memories. As much as we like it, sometimes preparing to go on vacation with the family, could be a bit overwhelming and we may not have enough time to get a project ready to going.
I read about the Kids Travel Journal and was very curious as to what it was all about, I was happy to learn that I had been selected to review with our daughter this Journal. This Journal is a fun Entertainment for any child, it makes them thing of what they have done that day and save a visual collection of memories. It includes an index to fill in the blanks and plenty of sheets to cover a full week of vacation.
The Journal is meant for 4+ years children, our 4 1/2 year old read the little booklet and asked if it was for her and if she can share with her sister. I love when she does things like this, and so I said yes it is, that they can both complete the journal ones we were on vacation.
Vacation time arrived, and while it was not very far and not for a long time it was enough for our girls to enjoy and fill out the Vacation Journal.

Below is the first 2 pages as you open the booklet: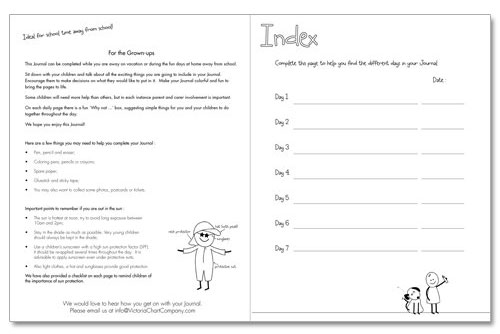 Completing the Journal was so much fun, every day Kira (our 4 year old) would grab the Journal and ask me to help he write things of the day, it gave us the opportunity to value the thing that we were doing and think of the things that we would like to do next. Kira would also ask Kayle our 1 1/2 year old to say what she liked about the day, it was so nice to watch this interaction. Kira would ask her a number of questions and Kaylee would say No, no, yesss, and so on.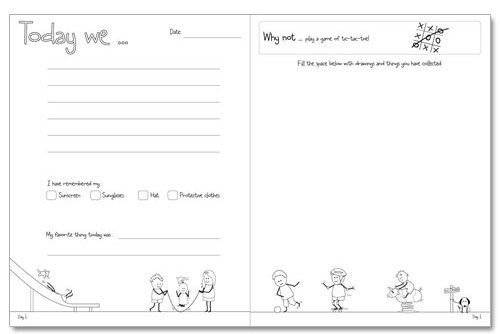 We wrote many things and we even drew many funny things, we included Kaylee's doings in many of the pages (a few crayon scribbles, here and there), we really like that on every page there is a space to write the date, a favorite section, and plenty of space to write and draw.
The really sad part is that after we came back home, Kira was looking for her Journal and we realized that we did not have it, we looked for it here, there and everywhere but it was no where to be found.
At this point we have made a few calls to see if someone found it, but no luck. Kira's Vacation Journal is long gone. It was nice having it.
This is a good fun activity to have kids do while on vacation. As they get a bit older they can do more thing on their own but the little ones do need plenty of help, help that we enjoyed providing.

The Company and Purchasing Information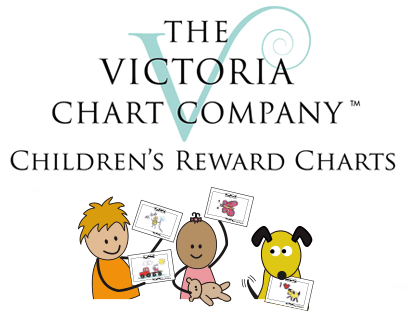 The Victoria Chart Company was founded in 2004 by Victoria Ballard, a single mom of two who was searching for a way to inspire her son with special needs to reach his developmental milestones.
As of today this Company is the recipient of several awards including two National Parenting Publications Awards in 2013 and another in 2014.
To Purchase follow the link depending on your location:
In the United States: US Website
In the United Kingdom: UK Website
In Canada: Etsy Store
To learn more about The Victoria Chart Company visit and/or follow them via: Facebook // Twitter

Now for the Giveaway
Follow the RULES on the Rafflecopter and enter for a chance to WIN, This contest is open to US and Canada residents 18 years of age or over, void where prohibited.

Good Luck.
Current Giveaway embedded Code:
{xtypo_sticky}
Disclosure:
I received one or more of the products mentioned above for free using
Tomoson.com
. Regardless, I only recommend products or services I use personally and believe will be good for my readers. For our full disclosure and PR Info
Click Here
.{/xtypo_sticky}
Hits: 7960