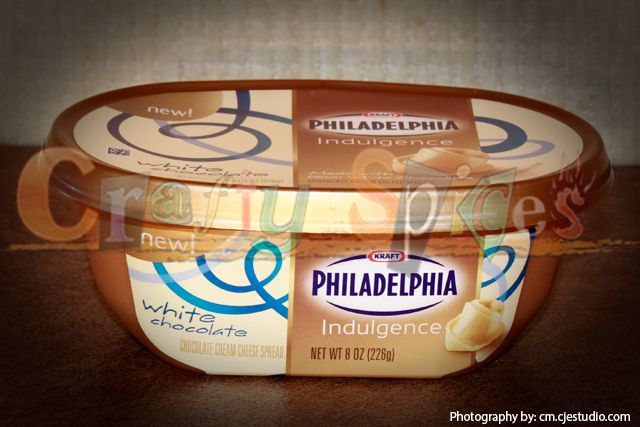 The new Kraft Philadelphia indulgence line of chocolate cream cheese spreads, consists of 3 different spreads: Milk Chocolate, Dark Chocolate and White Chocolate. We have had the pleasure to taste and review the white chocolate spread.

Just think for a second about this combination, White chocolate and cream cheese...
Doesn't this sound like pure heaven?
I know that as soon as I heard about this product I was speechless, as I am a big fan of both individual ingredients.
Cravings to the test!
Our Review
Sounds all to good to my ears, out of curiosity the first thing I did was flip the container to read it's nutritional values and ingredients, even dough to be honest I may not understand half of it, and I'm by far a nutritionist. I do like to take a look at some basic things, like calories, fat, sugar content... It turns out that the 8 oz Philadelphia White Chocolate Cream Cheese is calculated for 7 servings (more than 1 oz per serving), each serving containing 120 calories, 7 grams of fat, and 12 grams of sugar, somewhat high on the sugar, but not bad at all when thinking that I will indulge myself with white chocolate cream cheese spread. For complete nutritional values and ingredients see picture on the right-side.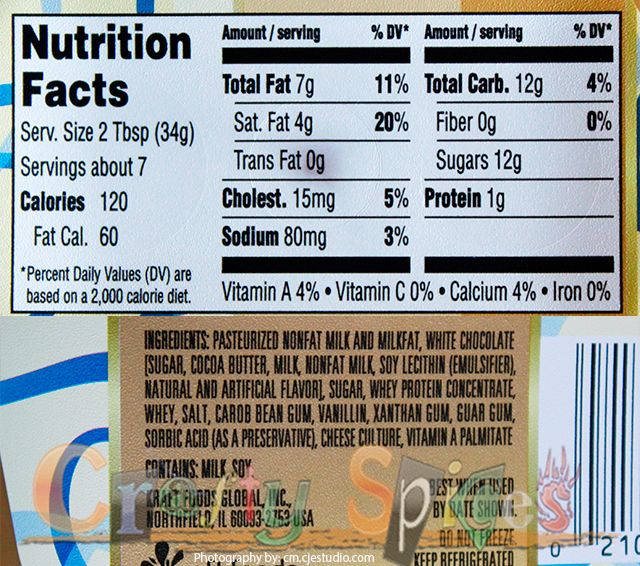 As we opened our first container I was surprised because the consistency did not match that one of cream cheese, it was more like a creamy butter, I smelled it (yes, I'm a sniffer) and it did smell like yummy white chocolate (my favorite chocolate), I tried it and it was not what I expected but certainly delightful. It does taste like white chocolate and just a very little cream cheese flavor. At first I thought that I would end up eating most of it in just one seating, but after just a few crackers I felt it was to much sweet for my palate. Regardless of the sweetness I love it, I just can have to much of it at the same time.

We tried the spread on many things: plain bread, strawberries, bananas, mini-bagels, and awe also made a few recipes. We found that it's a great spread for when you have a sweet craving or for some yummy bake goods. Talking about sweets:
| | |
| --- | --- |
| | I was honored when Raven at MsMommyHH6 invited me to do a guess post, we have taken this opportunity to share with her and her followers one of the recipes that we made with this product. Head over to her site (MsMommyHH6) and check it out. |
If you would like to learn more about the Kraft Philadelphia indulgence line visit their website Kraft Brands

Tell us what would be your favorite thing to try with the Philadelphia White Chocolate Spread.
Disclosure: No compensation was given for this review. All opinions are 100% my own.
For our full disclosure and PR Info Click Here.
Hits: 7501