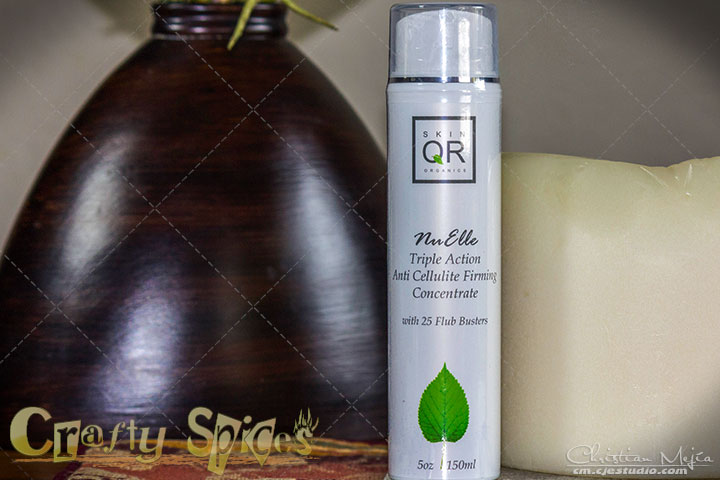 I was invited to review the NuElle Triple Action Anti Cellulite Concentrate by Skin QR Organics, considering that we all can use a bit of help maintaing our skin I agreed.
After reading it's description I was eager to give it a try, this cream contains plenty of natural and organic ingredients including the top 20 known botanicals that assist in weight loss and cellulite reduction, like caffeine, L'Carnitine, Butcher's Broom, Ivy, Coconut Oil, Cat's Claw, Cayenne, and the list goes on.
NuElle Triple Action Anti Cellulite Concentrate besides being all natural it uses ingredients meant to work both on the surface of the skin and to penetrate into the deeper layers, firming, detoxifying, reducing water retention and fat cell clusters, increasing circulation and for that helping with the good appearance of the skin.
If you are a Women you have most likely experienced cellulite, and by the look on you face right now "you don't like it" recommendation are to eat healthy and practice exercise to eliminate cellulite. I myself am under the impression that ones you have it it's difficult to get rid of, but there are certainly things that we can do to reduce the appearance, using a good cellulite cream would definitely help.
In our experience the cream does help reduce the appearance of cellulite if applied on a regular bases, making the NuElle Triple Action Anti Cellulite part of the daily routine can dramatically change the way you skin looks. But at the same time if you are to stop using it for a week or so you will notice again how the cellulite shows right back. This being said it all depends what are you looking for, what can or can't you do in long terms.
Pros: All natural ingredients, nice citrus scent, 30 day money back guarantee
Cons: Results seam to be temporary and require many repetitions and long term usage, causes a "sauna" reaction (making you sweet) at the location it's applied
Final Thoughts: Cellulite is difficult to get rid of, even after changing eating habits and working out you may still notice that cellulite shows off on you body. If this sounds all to familiar you should give this cream a try, note that to keep the appearances most likely you will have to commit on the use the cream.

Purchasing Information
The "NuElle Triple Action Anti Cellulite Concentrate by Skin QR Organics" is available to purchase:
HERE
buy it today and test it yourself.
Disclosure: I received one or more of the products mentioned above for free using Tomoson.com. Regardless, I only recommend products or services I use personally and believe will be good for my readers. For our full disclosure and PR Info Click Here.
Hits: 5826