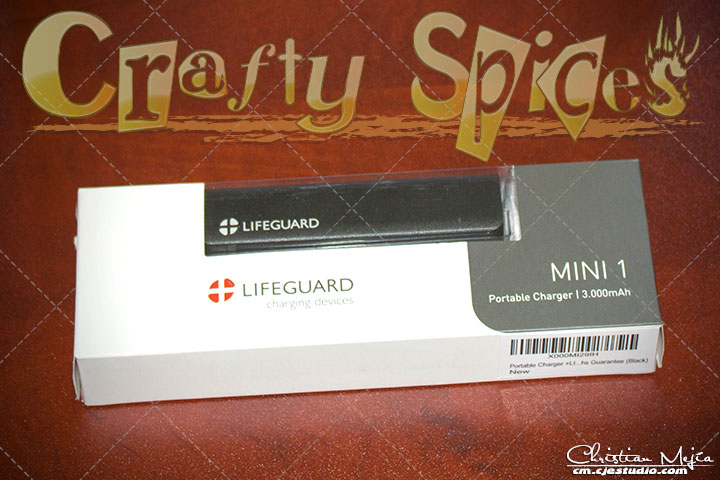 Have you heard about the +LIFEGUARD MINI 1?
While I am very familiar with these types of devices, some call them battery back-ups, power banks or portable Batteries they are all the same thing, or at least perform the same function. Which is after our electronics run out of juice they allow us to charge them on the go. It was not until recently that I have became very familiar with the +LIFEGUARD MINI 1.
If you need to see whether you like it or not the reality is that our life these days are surrounded by electronics that have to be powered up. Most people have a wireless phone or better yet, a wireless SmartPhone, not to mention many also carry a tablet that they use on a regular bases. Since nobody really want's to be stuck with an electronic that runner out of power and can' be used until it's re-charged, this has open a huge market for all the Battery bank manufactures.
The manufacture description goes as followed: "This compact well designed product has a premium smart battery that will save your cell phone battery hundreads of times with rapid and full charges."
We received the small device, which comes in a well presented box including the +LIFEGUARD MINI 1 Portable Charger, Micro USB cable, Apple compatible Lightning 8-pin cable, and the user guide. The one thing I would add to it's content is a small canvas, felt or type of carrying bag/container to protect the +LIFEGUARD MINI 1 inside a crowded purse/backpack.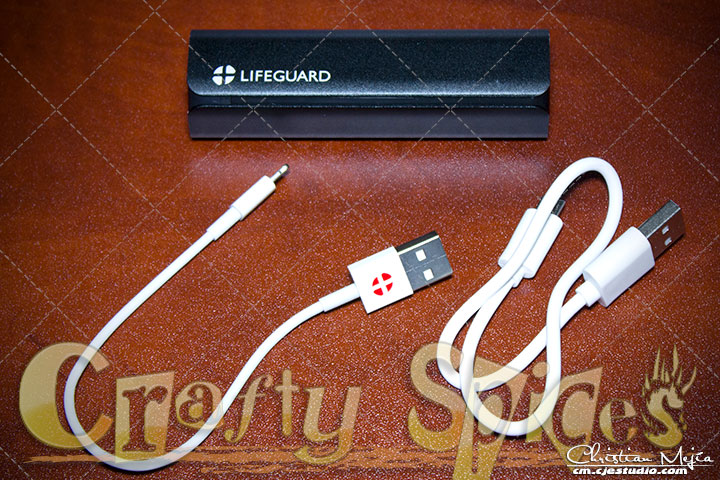 We were eager to test the +LIFEGUARD MINI 1, but per the instructions we had to charge it before connecting any of our devices, it can take up to 5hours to fully charge, but the first time takes about 3 because it does come with some charge. We looked for our wall usb charger and connected the included cable to the wall and then to the +LIFEGUARD MINI 1, charged it as indicated then fortunately my iPhone was at 2%, since I really wanted to test it out I waited until it was at 1%.
We connected the iPhone and I have to admit that we had a rather interesting experience: we took the time to learn how long it would take to fully charge, after 20 minutes it was 23% and without neither of them (iPhone or lifeguard) being moved, it started beeping and showing as if it was not charging then charging repeatedly, it continued doing this a number of times until I disconnected it and then reconnected again, but it immediately started doing the same thing again. I notice that the Lifeguard Mini1 was very hot and that the blue light was flashing. I again disconnected the iPhone and this time I plugged the +LIFEGUARD MINI 1 to the wall to be charged but the light indicator did not come on, so I assume that it was still fully charged. I tried again with the iPhone and the same results.
I ended up contacting the manufacture, the good thing is that they are very nice and super helpful, did some trouble shooting and it seems that while it does not happen often we did end up with a malfunctioning device. They replaced the device at no cost and we got to start all over. Not to mention they are so confident in there product that they offer an 18-month money back guarantee.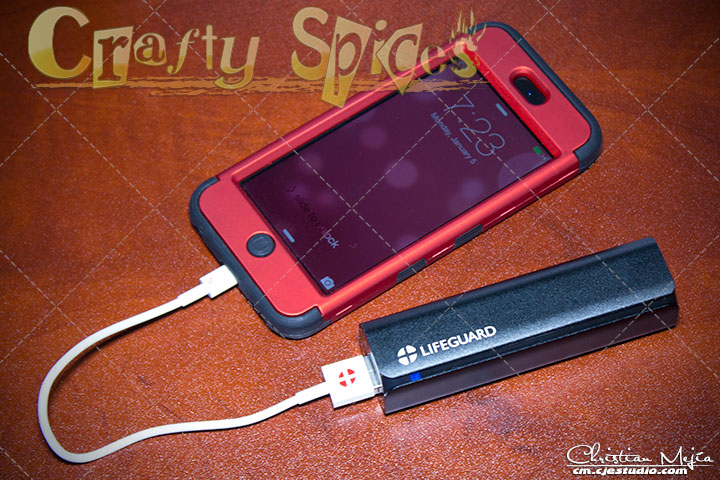 This time while the first part of the process was the same (charge the device and connect an iPhone at 1%) the results were totally different. It took about 2 hours and 48minutes to fully charge the iPhone. I really don't hold agains the company the defective device I actually praise and admire them for taking ownership and responsibility; they did what every good respectable company should do.
After that we have charged a number of times our iPhones and iPods with great success. We also connected our iPad but it does seem that the +LIFEGUARD MINI 1 is mainly designed for smaller devices since it was not able to fully charge the iPad, it got up to 25% and we were out of stored power.
I love how small and easy to use this device is, it's already saved me a few time, the most recent one being I was out of town on a full day conference and my phone run out of juice. Luckily I had with me the +LIFEGUARD MINI 1 and I was able to fully recharge my phone while continuing regular participation at the conference.
Pros: Stylish, compact, lightweight and small enough to carry in a pocket or a purse, fully charges phone while on the go, very simple and easy to use.
Cons: Only for small devices.
Final Thoughts:
A great little gadget to keep around, can save you from being unable to communicate using your smartphone. We look at it this way, if you have a smartphone, then this is a must have device.
Purchasing Information
The "+LIFEGUARD MINI 1 Portable Charger" is available to purchase:
HERE
. and never worry about your phone dying while you are out and about.
Disclosure: I received one or more of the products mentioned above for free using Tomoson.com. Regardless, I only recommend products or services I use personally and believe will be good for my readers. For our full disclosure and PR Info Click Here.
Hits: 7557