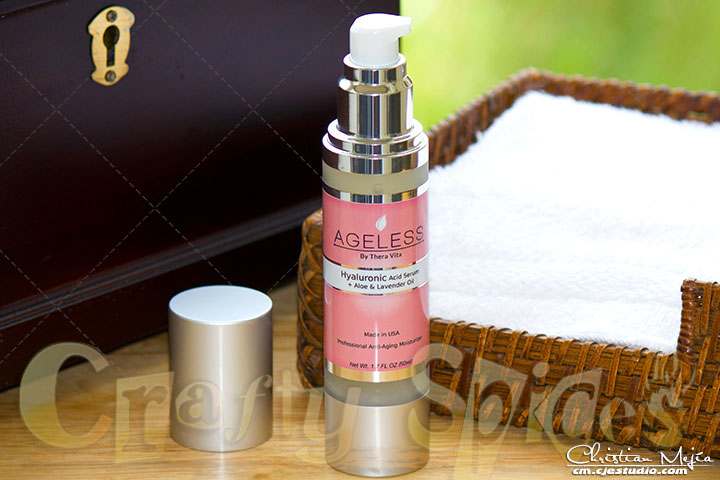 Keeping up with beauty products, finding high quality that work for our skin and the ones that fit our needs is a very challenging task. We are in a roll and we are slowly but consistently finding the ones that work for our complexion and skin type and discarding the rest.
With time the dreaded weary comes about aging, and with that wrinkles, skin sag, and many other things that I will not get into. So I decided to try the Ageless by Thera Vita since we all know that taking care of our skin keeps it healthy and looking nice and "young" for more years. It's never to early to think of taking care for the future.
Product Description:
Ageless by Thera Vita's organically infused hyaluronic acid smooths away the appearance of fine lines in seconds and helps keep moisture in and external irritants out to preserve the integrity of the skin and mantain a natural beauty and glow. It also increases the strength and elasticity of the skin for a firmer look.It has ntioxidant properties eliminates sun spots caused by sun, pollution or smoking
It contains extremely powerful organic herbs such as aloe, witch hazel, MSM, green tea, vitamin A, C, E, jojoba oil, and geranium oil. And it is said to be great for all skin types.
Our Thoughts:
We receive a 1.7 oz bottle of the Ageless By Thera Vita for review, it's an elegant bottle with silver cap and bottom. The actual gel is clear and very thick, good thing it has a pump to extract it. While it contains Aloe and lavender oil It has mix scent that was not so much of my liking as I find it to be a bit strong and not defined enough, the good thing is that the scent does not last long, I could just smell it as I apply it to my face.
I have not been using it long enough to notice any difference, with the exception that it does leave my skin feeling soft.
Purchasing Information
If you would like to purchase the
Ageless by Thera Vita - click Here!
Disclosure: I received one or more of the products mentioned above for free using Tomoson.com. Regardless, I only recommend products or services I use personally and believe will be good for my readers. For our full disclosure and PR Info Click Here.
Hits: 3786