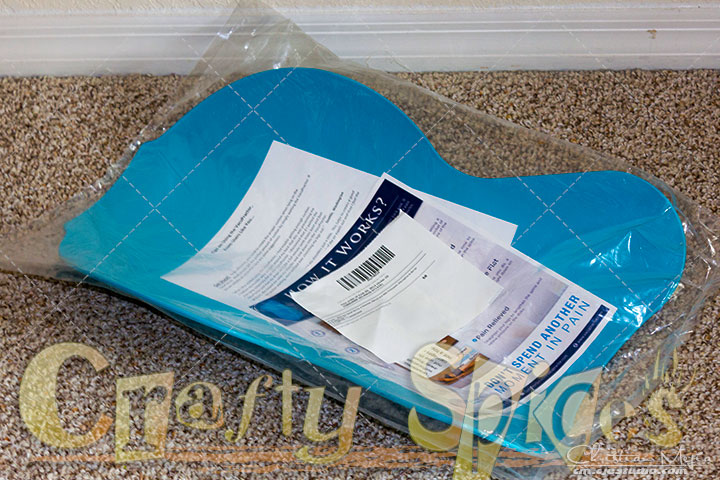 I am amazed to have learned how many people from young adults to elder ones suffer from lower back pain, and I thought I was one of the few. The statistics are depressing and very surprising, and to think that most people go most of their life time with back pain or drinking pills to try to help is even more depressing.
I have suffered form lower back pain for many years now, and while I don't really like to take pills, I have taken some in the hope to help relief the pain. I've tried doing exercise (not on a regular basis), have seen a chiropractor and have done acupuncture. While most of these treatments help, they are just a temporary relief and very tend to become very expensive.
Every day we try to implement and live a more green and natural life, and of course that includes trying to ingest and adsorb less chemical, including painkillers. That being said I was extremely happy to have been selected to review the VacuPractor.
"The VacuPractor –Lumbar Traction is a revolutionary patented device for the self- treatment of lower back pain. The user lies on the device, creating a natural vacuum effect to gently pull the spine and stretch the muscles in the lower back area. Pain is relieved in as little as five to ten minutes of use. VacuPractor can be used at home, and it can be combined with other pain treatments as part of a patient's total care."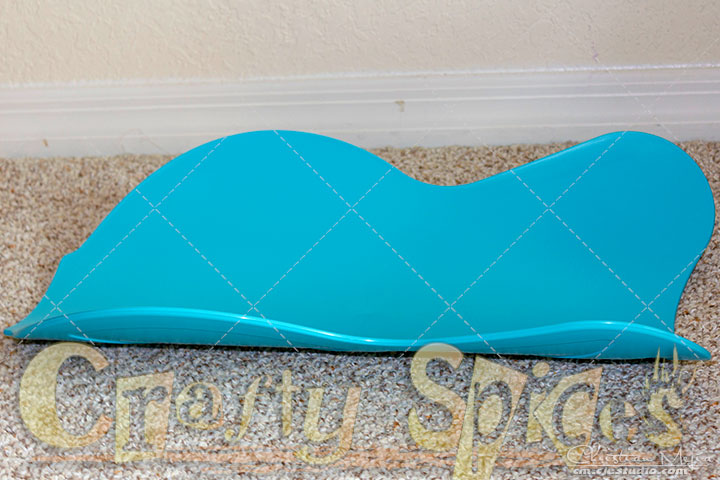 The First time we used the VacuPractor it was so funny as I was with my niece (12 year old) and the sound it made was like a fart so she was giggling any giggling and could not stop.
I used it for a few days and while my lower back pain was gone and felt great I had a new problem, a pain in my spine somewhat in the lower part of the center of my back. I was unsure if this was a result of the use of the VacuPractor and I contacted the company and I loved their responsiveness and concerns they troubleshooted a few alternatives trying to see if together we could figure out why was this happening. Meanwhile I stopped using the VacuPractor for a few days.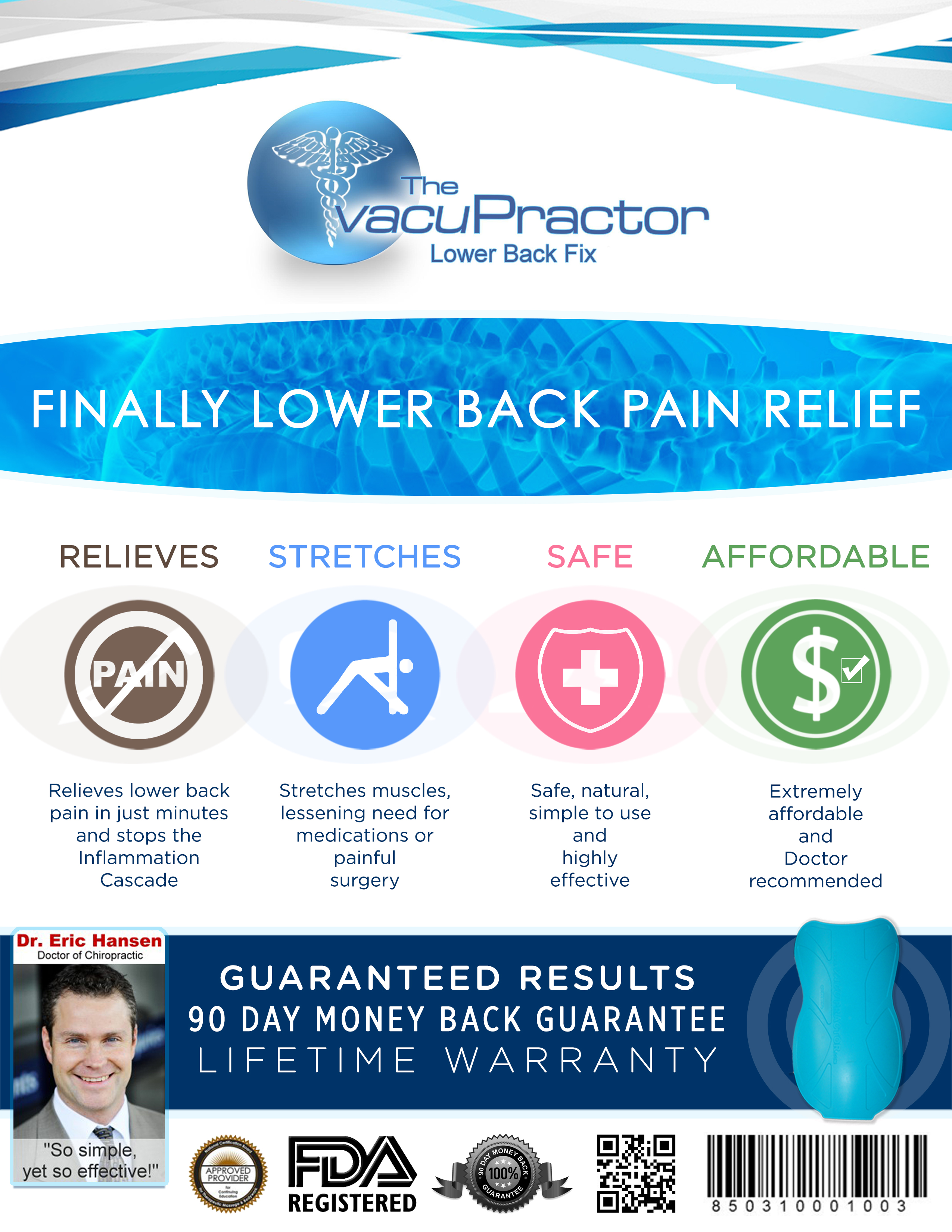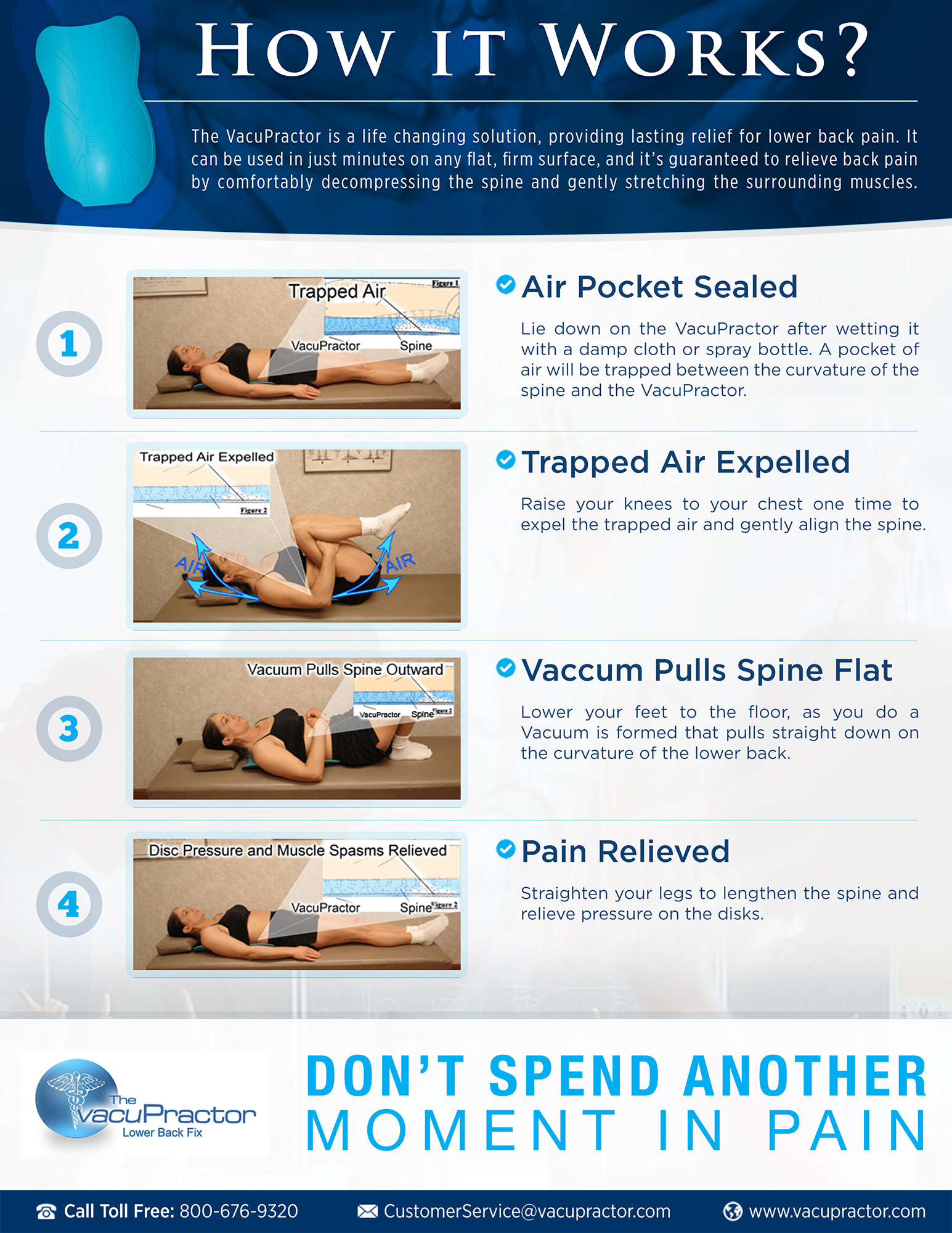 I talked to my doctor to find out that it was not the VacuPractor but that as I got rid of the lower back pain I uncovered a different pain that had been there all along and with in a matter of 2 days it was gone.
I again tried the VacuPractor for my lower back pain, using it ones or twice every day for about 10 minutes (as many repetitions as I could do, but not rushing it), and I have been very happy with the results, it has totally gotten rid of my back pain. Then I had to travel out of the country and did not take the VacuPractor with me, after about a week my back pain started to come back, that's when I really started to miss my VacuPractor.
The VacuPractor is considered extremely safe but may not be appropriate for everyone, if you have any concerns or doubts, you may want to consult your doctor.

Getting Rid of back Pain, here are 6 reasons why to use the VacuPractor:
No medications needed
No additional cost
No need for a specialist
No appointment needed
An economical solution
Get rid of the back pain when it hurts

Pros: It eliminates lower back pain without no medications or additional help.
Cons: we have to wet it (not a nice feel), no indication as to up or down, or the correct positioning, yet easy to figure out.
Our Final Words: This is a great Product for anyone with lower back pain, I recommend it and give it a big thumbs up.
The Company and Purchasing Information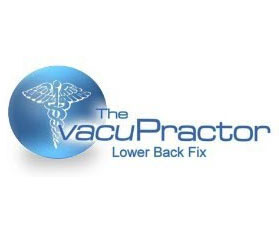 {xtypo_sticky}
Disclosure:
I received one or more of the products mentioned above for free using
Tomoson.com
. Regardless, I only recommend products or services I use personally and believe will be good for my readers. For our full disclosure and PR Info
Click Here
.{/xtypo_sticky}
Hits: 7017