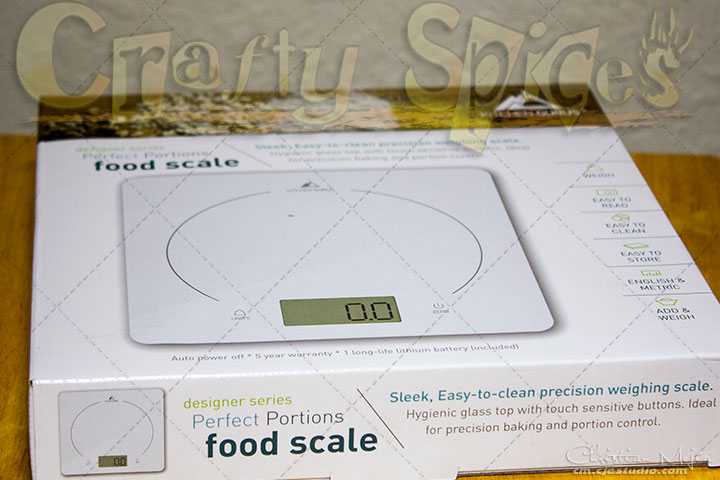 We are in the kitchen every day and love to come up with interesting and innovative meals. We also love to try kitchen appliances and gadgets that make life in the kitchen a bit easier.
While I have used kitchen scales and actually like the idea of having one on hand. Even after coming across a few recipes that suggested specific grams or ounces of certain ingredients, I never really got around to purchasing one and have never owned one myself. That is until now!!
But before we go into my full review I would like to share with you some of the specifications of this Kitchen scale that got us excited about reviewing it.
Product Specs by the Manufactures:
Easy to Clean, Durable Tempered Glass Construction (11lb capacity)
Tare / Zero feature to add additional ingredients or remove container weight.
Designed in the USA!
Auto-Off Technology
1 Lithium Long Lasting Battery (included)
Touch Sensitive Buttons
Measures Grams (g), Ounces (oz), Fluid Ounces (fl oz), Kilograms (kgs)
Easy to Read, Large 2.4″ High Contrast LCD Display
4 High Precision Gauges with 0.1lb resolution
Low Profile Design (15mm thin)
Responsive Customer Support
100% Satisfaction Guaranteed
After reading the specifications, now you may get the idea as to why I was really excited and could not wait for it to arrive.
Ones it arrived, I'm not sure if I was overwhelmed or intimidated by it but I was not sure what I was going to be weighing on it first. Walnuts were the winners of the first place, then spices, and now I find myself using the Kitchen Gurus Scale for so many things and more often that what I would have ever imagine.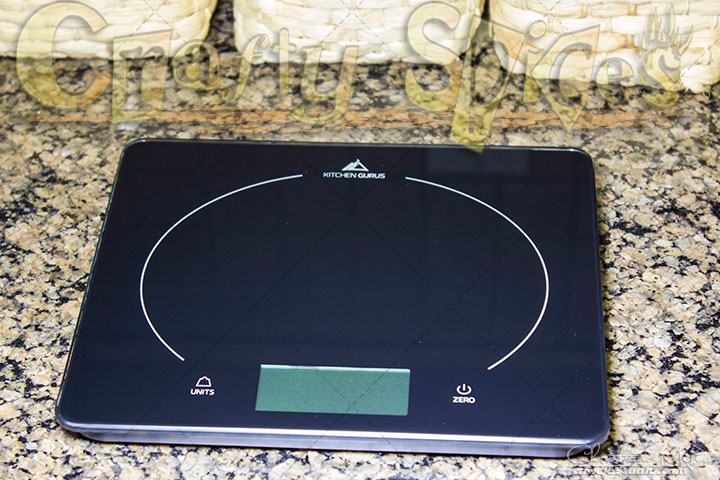 It comes in a relatively small box that has a simple and elegant design with easy to understand information. The scale itself has a very slick design, we received the black version which I consider to be very attractive (yes I did say attractive and I am referring to the scale), it's a descent size scale, with a large and very easy to read LCD.
It is very easy to use, and I like how we can place a bowl on the scale and then zero it out to get the exact measurement of the ingredients (great accuracy). It is thin and lightweight which makes it easy to store and move from one place to another. It offers to present weight in the English or Metric system (Pounds or Grams and estimate volume in fl oz or ml). Last but not least I absolutely love how it is extremely easy to clean because of it's glass top (just wipe with water and vinegar).
I highly recommend the Kitchen Gurus Glass Top Digital Food Scale.

The Company and Purchasing Information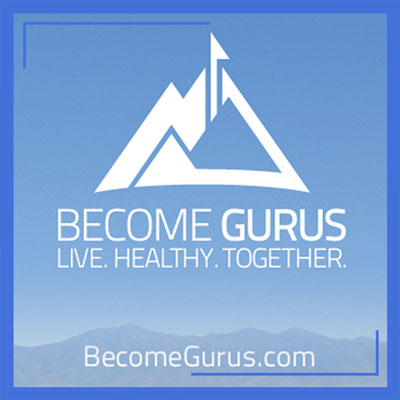 Gurus
is a small company, said to have a big heart.
The things that are important for them are: Health: Helping people master their health // Great Product: Making products people love // Doing things the right way
This is what Gurus has to say to all of us: "Our name is our goal. We want to help people master their kitchen and improve their overall health. We hope that you have an uplifting experience with our products and that they play a role in your journey to better health."
To learn more about Gurus products visit and/or follow them via:
Website // Facebook // Twitter To purchase go to: Amazon.com
a Rafflecopter giveaway
Current Giveaway embedded Code:
Disclosure: I received one or more of the products mentioned above for free using Tomoson.com. Regardless, I only recommend products or services I use personally and believe will be good for my readers. For our full disclosure and PR Info Click Here.
Hits: 5819