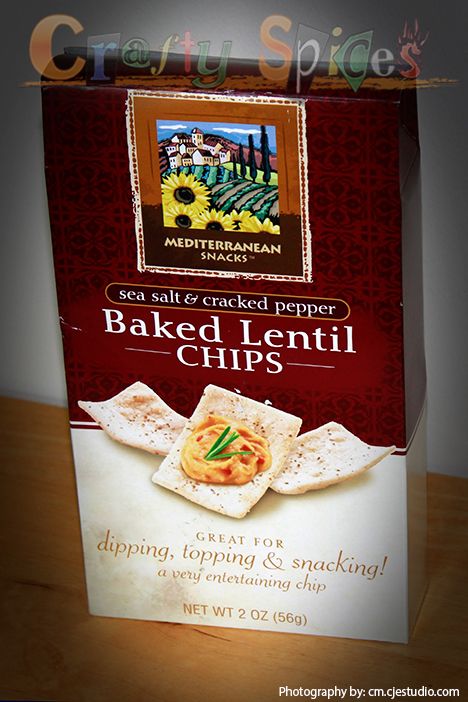 I love lentils, so when my lovely husband saw these Baked Lentil chips at the grocery store, he did not hesitate in getting them for me. I'm loving them and want to share my experience with all of you.

First of all I think they are a great substitution for potato chips. I love that they are somewhere in between crackers and chips, and they are a perfect snack for in between meals.

So after trying the first chip...
I had to know more about these tasty chips.
Good for the entire Family!
Good Content and Good Taste
I flip them to read the ingredients and all the calories I was eating, I started reading and was pleased with the ingredients (check them out to your right), it got even better when I read that for a full serving (22 pieces) it was only 120 calories, that was great news for me. I did think the sodium was on the high end, yet still lower than regular potato chips.
I'm always happy when I don't have to sacrifice flavor for content and these chips are so tasty, I was eating them with no dip at all, and really loved them.
The flavor that I tried was the sea salt & cracked pepper, just as the name they are salty and a bit spicy because of the pepper, and very yummy. Mediterranean snacks has a full line of all Natural and Gluten Free Chips, and I was pleasantly surprise to find out that they have a large variety of flavors including Parmesan Garlic Baked Lentil Chips that I'm dying to tray.
Next time you are thinking of getting some chips for you or for you little ones, try the Mediterranean Chips, I think you will not be disappointed.
If you would like to learn more about these chips or any of the other lines offered visit their main web-site: Mediterranean Snacks
Disclosure: No compensation was given for this review. All opinions are 100% my own.
For our full disclosure and PR Info Click Here.
Hits: 7114