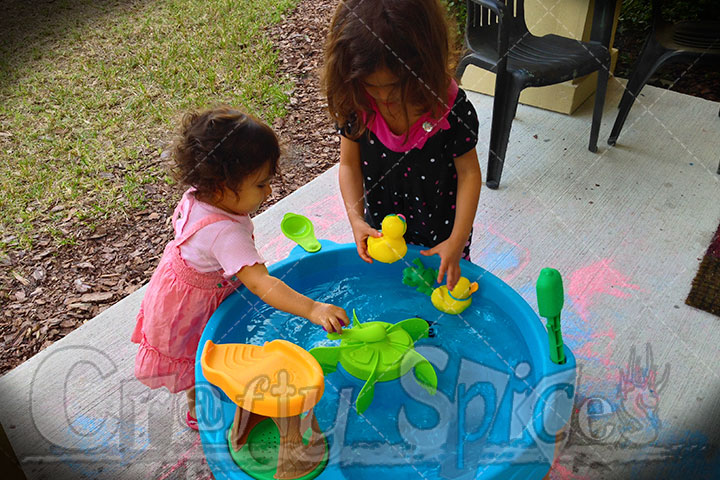 I am partnering with Step2 for the following review. I received a product in exchange for my review and honest opinion. No other compensation was provided.

Step2 is a company that offers many products for the different stages of the development of our little ones.
When we were selected to be one of their product testers we became really happy and excited about this opportunity, soon enough we learned that they would be sending us the Step2 Duck Pond Water Table which I knew our girls would really enjoy since they love playing with water.

But we did not tell the Girls that this was on it's way, and when it arrived here, Kira (our 4 year old) was not home, she was at school. As soon as she got home and saw the box, she just wanted to open it, and get strait to playing with it.
Epic Mommy Adventures
" for choosing to
Co-host
this event with us, be kind and stop by to say hi to her.
Step2
Product Description:
We received a large box containing all items required for the assembly of the Step2 Duck Pond Water Table
Inside the box: 1 large blue pond (for the water) with a small black water stopper, 3 brown legs, 1 spinner, 1 bag with parts for the slide (4 parts: yellow slide, 2 brown supports and a green base), 1 bag with play toys (2 yellow ducks, 1 green frog, 1 scooper, and 1 green launcher or frog launcher
And the assembling began!!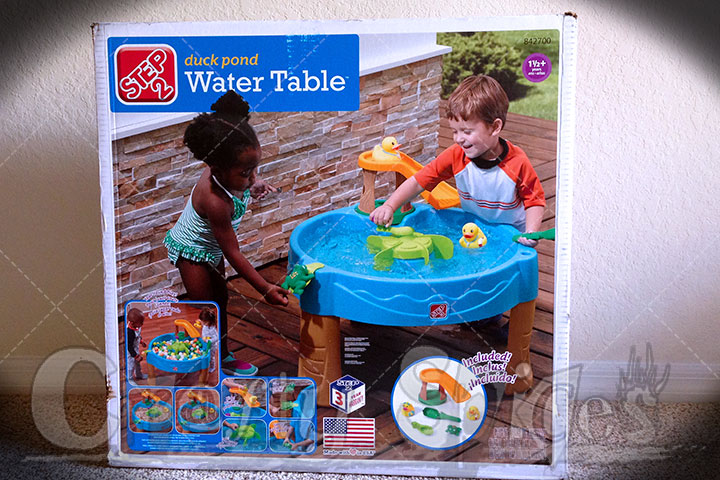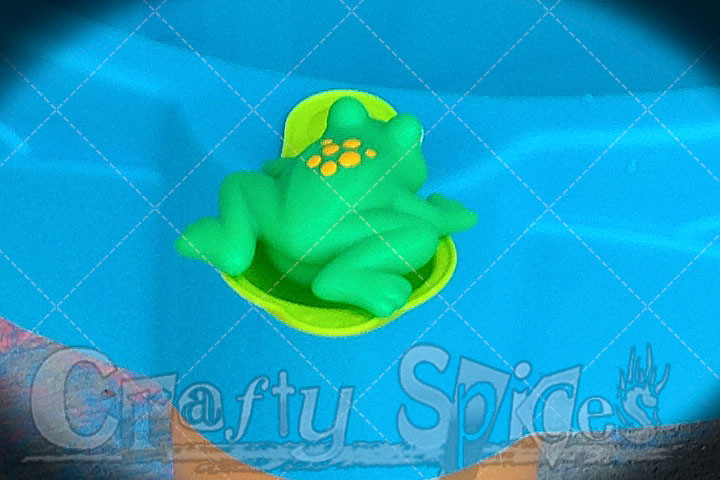 Frog on the Green Launcher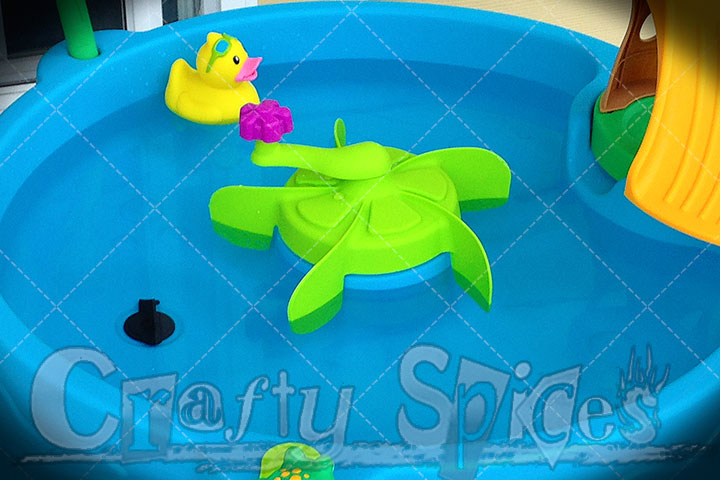 The Spinner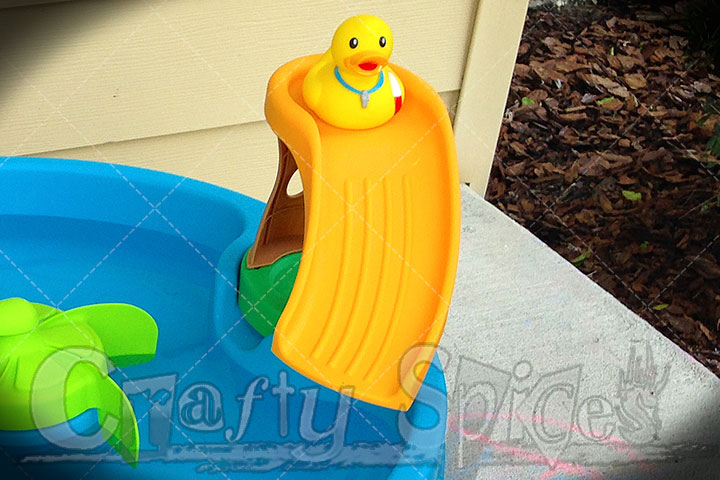 A Duck on the Slide

Our Experience and opinion:

That very first day the weather was cold and it seems as it was going to rain, but that was not going to stop us or our girls from plain with their new Step2 Duck Pond Water Table.
That being said we found many small toys and put them in the Duck Pond, the girls were very excited, we ended playing search game where I would ask them to search for a specific toy inside the now "toy table"
Our little one still to this day finds it so funny when someone lunches the frog with the green launcher (it's so funny to see her), the Step2 Duck Pond Water Table has turned into their go to for play and fun time. So in a way I'm glad that the weather was not collaborating that first day because we found the perfect use for it inside our house, and since then we have thought of other different uses that we may give it later.
We have had friends over and they also have enjoyed playing at and with the Step2 Duck Pond Water Table, and we've had a few interesting comments about how cool is that we found a way to play indoors with this awesome set.
As soon as it was finally nice and warm outside our oldest did not hesitate to ask if we could take the Step2 Duck Pond Water Table outside and put water in it, how could we refuse, so we did. They had a blast not to mention they got all wet and loved it.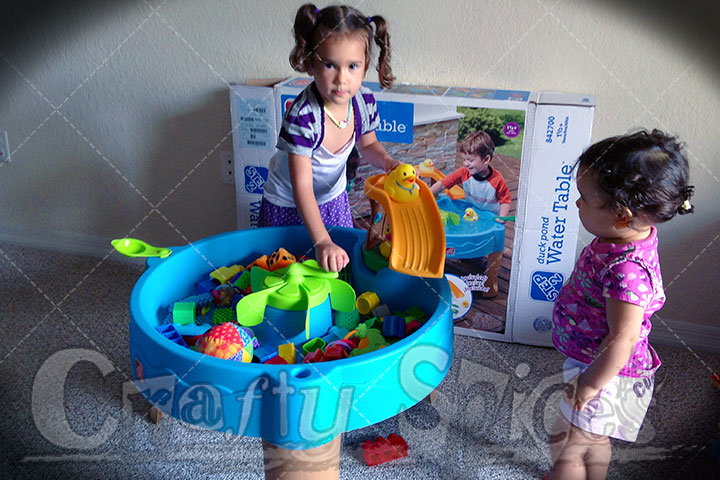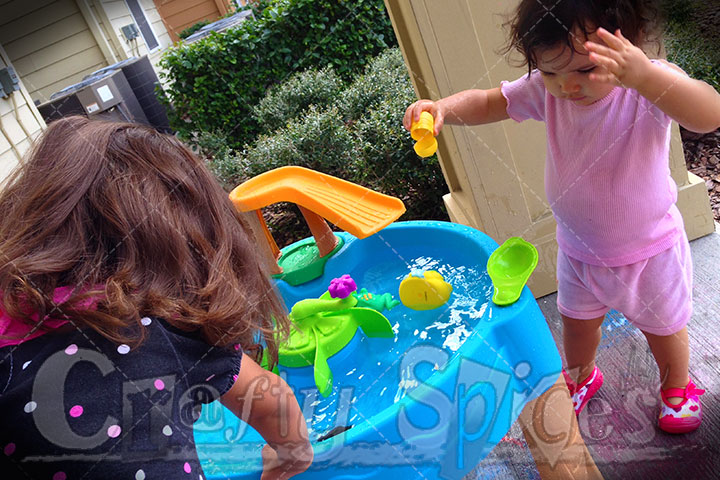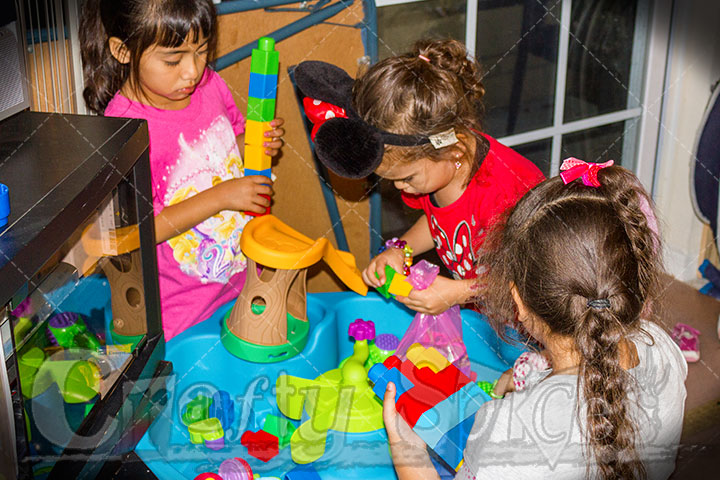 We've had and continue to have so much fun with the Step2 Duck Pond Water Table, we have created and edited a video with some of the highlight of our experience. As of today the table is setup in our living room and the Girls Play with it every day.

Different uses for the Step2 Duck Pond Water Table:
Small toys (as featured)
Plastic balls
Beans (Under adult supervision)
Foam letters and shapes
Add a few squirts of Bubble Bath to Water
Add a few drops of Food Coloring to Water
Pros: Fun, easy assemble, perfect height, lightweight and great for little hands.
Cons: Slide does not snap well in place and easily comes off and into the pond or to the floor.
Our final thoughts: We love this product, would recommend for both indoor and outdoor playtime.
The Company and Purchasing Information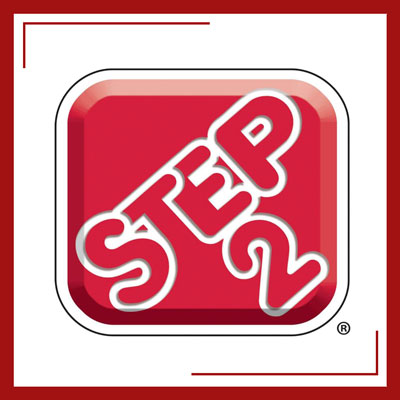 Step2
open it's doors in 1991 and had only 5 employees, since then they have grown to over 800 employees. They are are considered the largest American Manufacture of Toddler and Preschool Toys.
We love that
Step2
is partnered with the
Saving Tiny Hearts Society
(StHS) and work together to help the research around
Congenital Heart Defects
(CHD), which is the most fatal childhood disease and the #1 birth defect in the world.
To find more information about Step2 visit and /or follow them:
Website
//
Facebook
//
Twitter
//
Pinterest
//
Instagram
Website
or via retailers like
Target
and
Amazon
.-->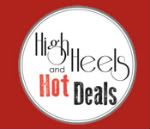 High Heels and Hot Deals
-->
a Rafflecopter giveaway
Current Giveaway embedded Code:
Disclosure: No monetary compensation was given for this post. I received a product to facilitate this review. All opinions are 100% my own and may not reflect those of others or yourself. For our full disclosure and PR Info Click Here.
Hits: 7469