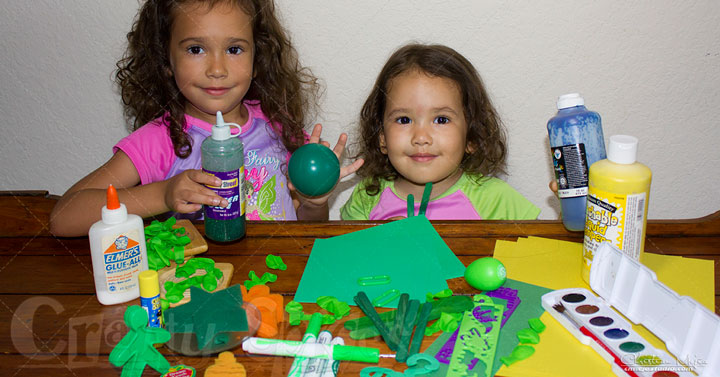 Last Week it was St. Patrick's Day, and the official beginning of Spring. What does that mean for you?
I have to admit that it is not our custom to celebrate this day, neither my husband or I grew up anywhere close to people that would commemorate or even mention this day.
While St. Patrick's Day, St. Patty's day or the Feast of Saint Patrick is very well know by many people and it is a national holiday in Ireland, here in the United States it's not a holiday but also celebrated in many ways by many people. It's a big party day and I would say that most people probably don't even know who was St. Patrick or that his real name was not even close to Patric but "Maewyn Succat" .
Anyway, sometimes it is just about having fun, these days for us instead of going out to party we have found another excuse to focus our attention in a specific educational subject to share with our girls. A day where we embrace that color green and do fun activities where they can practice different skills.
Below are a few of the things our girls enjoyed this past week
We Made fun St Patricks day Cards.
I pre-cut what was going to be the actual card, we fold them together and glued a smaller piece of white paper inside, the girls got to decorate their card with markers, foam numbers and glitter.

We learned how to make Green!
Teaching the girls how by mixing two colors we can get a 3rd color is always fun and they get so exited about it. It was fun to watch them mix the blue and yellow to see how the green came out.

We played with green water balloons
I filled a number of balloons with water, we played counting, adding and subtracting and then we went outside to have a blast by throwing them to each other

By filling small green balloons with rice we made sensory balloons or juggling "balls".
I was unsure if I would be filling them out on m y own or if I should involved the little ones in the process. I just had the little small balloons so I ended up filling them myself since they were not as easy as the bigger ones. They filled a few and then we got to play with them in a number of ways.

The girls had fun making Art works with Green paint and toilet paper rolls
This was one of the simplest and yet they enjoyed it so much. We do many craft projects with empty toilet paper rolls, so we always have a few around. Just a little bit of paint in a paper plate and a few empty toilet paper rolls the girls created a few master pieces. LOL
And these were just some of the things that we ended up doing in what we are calling our Green Week and the beginning of Spring.
On St. Patrics Day Kira insisted that we record her, below is a small clip:
Have fun and remember there is always something to teach and to learn from everything that we do.
Did you do something special that week?, or maybe just on St. Patrick's Day?
Hits: 4518