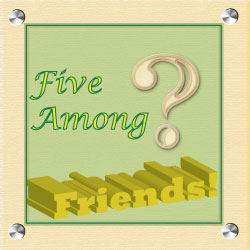 I'm very happy to be the one to bring you this week's questions.

This awesome weekly event has had it's up's and down's, yet we are still rolling. It's fun to share these questions and then go and read the answer of other bloggers. The similarities and differences that we all have.
Read along and if you would like to tag along as well, just let us know. If this is your first time joining us, this is a weekly series where every week a different blogger submits 5 questions and we all answer it at our site during the course of the week.

We love sharing with all of you, and hope not only that you enjoy reading but that you share some of your life with us as well.
Did you know this about me?
1. Do you have a bedtime routine?
If I were to answer this on a fast turn around I'm sure I would say NO, but come to think about it this is somewhat of a routine since before I go to sleep I: have to go cheek on our girls, make sure lights are off, doors are looked and most things are were they should be. Then I can go to my bedroom.
2. If you had to Limited to just one specific topic in your blog, what would it be?
Finding a learning experience on everything that we do.
3. How often do you sit-down with your child to do and activity of their choice?
Even if it's not for a long time I sit down with our little girls every day and we do something fun.
4. Do you celebrate Halloween? If so what are you doing this year?
This year we will do some crafts and go with the flow, no real plans just see what the day brings us.
5. If you could surprise your partner with anything in the world (money not being an issue) what would it be?
If I think about it to much I may just go on and on, so I'm just going to stick to the first 2 things that came to my mind.
First options: would be a trip around the world, we have talked about how would it be a fun learning experience to be able to do.
Second option: His dream house with all the gadgets that he so much likes and enjoy's
And so now you know!!!
We would love for you to participate!
Leave a comment with a link to YOUR answers and I'll stop by. You may also add you site to the linky. But if you would like to join the weekly event please contact us.
Hits: 4042