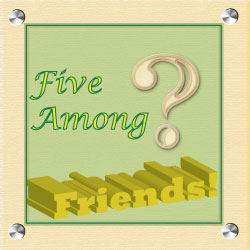 This questions come to us from Mary at Mary-andering Creatively

Many things have happen since the last post of The Five Among Friends, we are very excited because we have many new things going on, but we are not going there right now. This is a fun adventure that we have going on and set to a side for a few days, but now we are back rolling.
Read along and if you would like to tag along as well, just let us know. If this is your first time joining us, this is a weekly series where every week a different blogger submits 5 questions and we all answer it at our site during the course of the week.

We love sharing with all of you, and hope not only that you enjoy reading but that you share some of your life with us as well.
Did you know this about me?
1. What is your favorite color and is there a reason why it's your favorite?
It all depends for what or where the color is going to be used for, not sure if this makes me without a favorite color or just with multiple ones. Clothing wise I love earth colors (tones of brown or even black), for decor I like burgundy and cream, anything for my daughters most likely I would select pink (pink and white, pink and black, pink and brown, pink and ...). I like green and blue for sport items including bags and water bottles.

And my list can probably go on and on, I'm a multi color person and by the way I love to experiment with color.
2. What is the funniest thing that happened to you this week?
While my week has bee great, besides hectic and doing a million things, we have played, had fun, smiled and laughed, but nothing really funny or hilarious for me to tell, or at least that I remember right now. Although I did have quite a laugh, watching Kira dressing little G (you can check our some shots here)
3. What are your goals as a blogger?
My goals as a blogger have been constantly evolving. When I started blogging I had no idea about the community I was joining. Today I have such respect and value for so many blogger that have been a support and inspiration to me, that I can see one of my goals being growing does relationships. I would also love to continue growing my number of loyal followers that enjoy and appreciate our content.
4. What word or phrase describes you the best? Why?
Perseverance, border line OCD... I'm far from perfect but I do like organization, now that we have 2 little ones, and a million other things going on, "Organize" is not what I would call our apartment, and that drives me crazy. I've had to accept that things don't always have to be as close to perfect as possible, but it still gets to me.

On the other hand ones I set my mind on something I'm all the way for it. Trust me there is a relationship here, if it was up to me I'd probably spend day and night organizing and cleaning just to see thing in the right place and my perseverance for cleansing would either succeed on this everyday on going battle, or I would go totally crazy and have no time at all for anything but that. I'm lucky for the husband I have that has made me come back to reality and accept that it's OK... Also he is not only a loving husband but very helpful with the girls and around the house.

Staying on topic... I will do what it takes to make things happen, not to say that it all happens instantly, but calling it quits just because, is not an option for me. I guess I should include here that I'm somewhat of a perfectionist and this can cause many problems as I have had to do things over and over because I don't think there as they should be.

So, as you can see I'm not an easy cookie, and anybody that knows me can testify to that, although I do like positive criticism and I'm a work in progress. I try my best to do the right thing and be a good role model for our daughters.
5. Open question! Anything you'd like to say?
I think I already went overboard with the previous questions so I will just leave it at this, and say:
"No matter what you do, always do it with love"
And so now you know!!!
We would love for you to participate!
Leave a comment with a link to YOUR answers and I'll stop by. You may also add you site to the linky. But if you would like to join the weekly event please contact us.
Hits: 3493