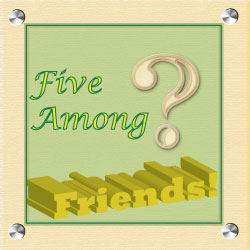 This Weeks questions come to us by the lovely Janine from Confessions of a Mommyaholic

Another week has gone by and we are here to share a little bit more about us via The Five Among Friends, It's interesting to stop by our friends blogs and read how similar or different our answers are. I'm also enjoying getting to know more about these awesome laddies. See the list of bloggers that are currently a part of this event.
Read along and if you would like to tag along as well, just let us know.

We love sharing with you all and hope not only that you enjoy reading but that you share some of your life with us.
Did you know this about me?
1. What is your favorite part of the fall season?
We lived in Chicago for many years and while I love summer, summer is very short up north (one of the reasons why we ended up moving), that being said I would love the different colors of fall, we enjoyed driving and watching the trees with lovely colors and then there was the mess in the floor and many leaves to pick up and play with :).

We love the Fall decor, the pumpkins, we really enjoyed last year when we took Kira Trick Or Treating. Kira and I will be doing some interesting crafty protects this year.
2. What TV show are you looking forward to watching now that fall is almost here and the network TV shows are coming back?
To be honest this year, we have had so little time for TV that I'm not really looking forward to much. I'm sure ones in a while we would catch "The Big Bang Theory" and maybe "The Originals"
3. What is your favorite part of your day?
Most of the time I love my days, I love spending time with our girls, playing, learning or even if it's cleaning after them. Yet every one needs their own time, this does not happen much for me but I do love my shower time. After the girls are in bed, the house is clean and organize I go and take a nice warm shower, while I can't really say it's very relaxing because I take that time to think what I will be doing next and what's the plan of attack, I still enjoy the warm water and the thinking time.
4. What is the last book you read and would you recommend it?
Reading was indeed one of my favorite things to do, but it's been a while. I think the last book(s) that I read were "The Twilight Saga Collection" by Stephenie Meyer and I did like them even more than the movies.
5. What is your go-to recipe when all else fails?
We try to eat pretty healthy around here, I'm not a total freak about it we do our best with moderation. So we have a few fast healthy go to recipes like our Shrimp & Bean Cocktail or Best Pizza Cupcakes Ever (this one we have done with different fillings - Yummy), oh and last but not least we love salads (Spinach Mix Salad, Mango Pasta Salad or any combination).
And so now you know!!!
We would love for you to participate!
Leave a comment with a link to YOUR answers and I'll stop by. You may also add you site to the linky. But if you would like to join the weekly event please contact us.
Hits: 3583