Happy Weekend!
Yesterday in the middle of a store I witness how a lady yelling at a child that was with her, whom I assume was her daughter. It's sad that many don't realize how words can affect a child in the long run. Regardless of the age we are all entitle to respect.
Quote of the week:
"Yelling at living things does tend to kill the spirit in them. Sticks and stones may break our bones, but words will break our hearts..."
- Robert Fulghum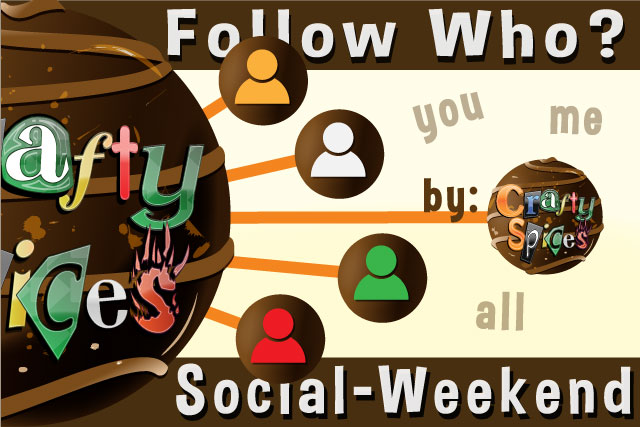 Join the party below by Linking and visiting others, make new Friends. If you are a new follower please leave us a comment with your links (or numbers) and we will follow/like you back. Have Fun!! #SWHOP
"Let's get Social"
Blog Hop
We love to
like
and
follow
back. Link up, like & follow, leave a comment below with direct links FB, twitter, etc. and we will stop by with some spice.
Let's get the
Party
started by spreading the Word, the more people know about it, the better for you, for me and for all.
Please tweet about this Hop
.
Tweet

Rules for this Hop
Follow and like your Hostess . Linky 1
Grab our Follow Who? Social Weekend Hop button and place it somewhere in you site, or link back to us in your own way. It would be greatly appreciated.
Visit, follow, like, it's Social Weekend... Like from PERSONAL PAGE ONLY leave a comment that you come from the "Follow who? Hop" or from "Crafty Spices" and be sure to include your Fanpage link so all can follow back. Please follow back
Link only in the appropriate category Blog, Facebook Fanpage etc.
Make new Friends... Hop, hop, link, like and follow back.
Link your Blog Here:
Direct link to your Site
Link your Facebook Fanpage Here:
Remember to follow via you personal page!
Link your Twitter page Here:
Follow Who?
Link your Pinterest page Here:
Follow? is it a Pin?
Link your Instagram page Here:
Sharing Pictures!
We can all count on each other to keep growing if we do it together.
Let's see how the "Follow Who? Hop" does this week.
Thank you for joining!
Hits: 5725