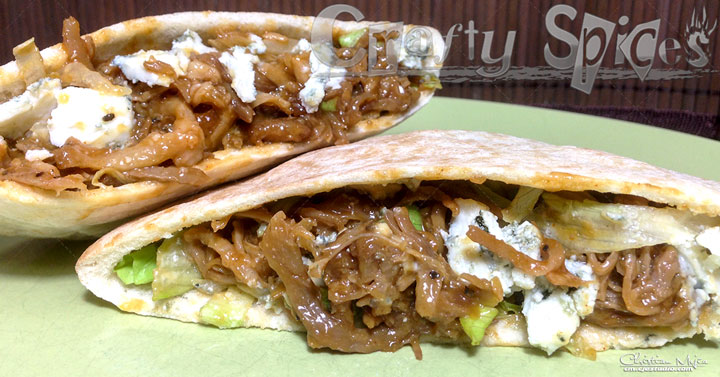 We don't use that much our slow cooker, I have always been somewhat skeptical of leaving something on in our house as we head out the door. And yet the few times that we end up using it I just think they are great. In what a dilemma I find myself, right.
I admit that slow cookers and busy hectic families can have a very good relationship to say the least. Since we prefer to eat at home instead of eating out, we tend to take advantage of the slow-cooker does days when we know we will be spending most of our day out, but still have time to come home for a homemade dinner. This is exactly the case and recipe that we are sharing with you today.
We set our Veggies, stock (beer in this case) and pork all into the slow cooker for a tasty pulled pork dinner, so as we come back home, with little to no effort we enjoy a homemade meal.
Ready in:
25 Minute + 6hours cooking
- | Serves:
6 - 8
| Complexity:
Easy
Ingredients
4 to 5-pound boneless pork shoulder / butt

2 medium yellow onions, thinly sliced

3 stalks celery, chopped

1 cup beer of your preference (more if needed)

1 tbsp dark brown sugar

1 tbsp chili powder
1/2 tbsp kosher salt, plus more as needed

1/4 tsp ground cinnamon

1 to 2 cups barbecue sauce

2 Cups Finely shredded iceberg

1/4 Cup Blue Cheese Crumbs

Multiple Pita breads
Directions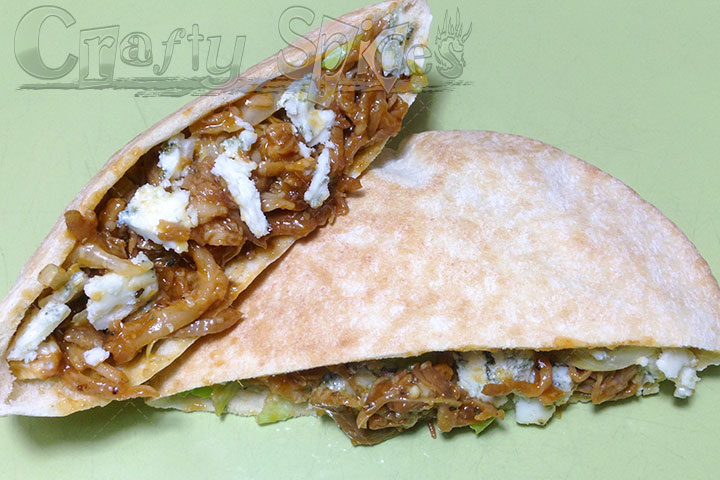 Take a large slow cooker and place a layer of onions followed by the sliced garlic cloves and chopped celery.

Add beer, if all veggies are not covered by beer you may add more beer or chicken broth.

In a bowl combine all the dry ingredients

Rub the dry mix all over the pork and place meat over the veggies already in the slow cooker

Set slow cooker on hight and cook for 6 hours or about 10 hours on low setting.

After time has passed remove pork from slow cooker and with the help of 2 forks shred all the meat out leaving as small and desired pieces. Make sure to trash any pieces of fat that you find.

Now, return all shredded meat into the slow cooker, add barbecue sauce, mix well.

Cook for an additional 20 minutes (optional)

Remove from slow cooker mix with half of shredded iceberg and half of the blue cheese crumbs.

Now to build the Pita Bread:

Take a Pita make sure it opens smoothly

Add a small amount of shredded iceberg followed by the pork, and topped by some blue cheese crumbs.
Enjoy this
Pulled Pork Pita
with your favorite drink.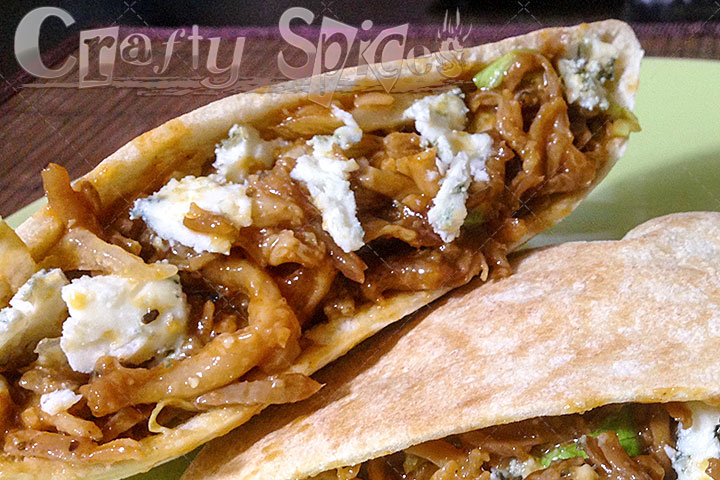 Oh and by the way, if you end up with leftovers, the pork does freeze well.
Be Creative, have fun, and Enjoy!!
Hits: 8619