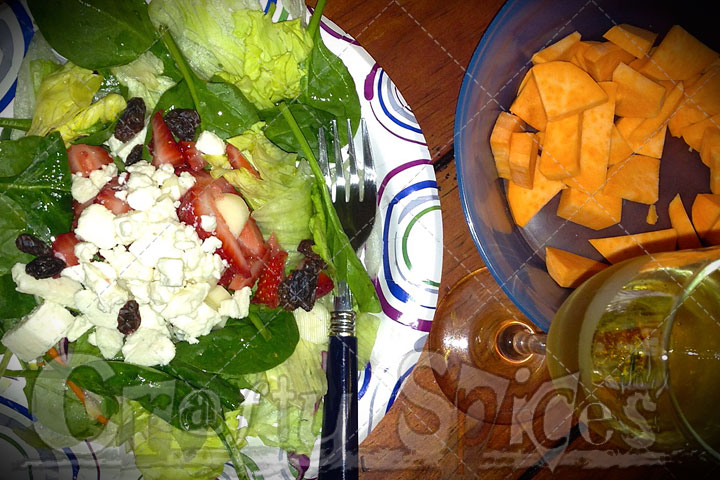 I just had to share this with you all. One night while our Friend Monika was here and as we watch "I can't remember what" on TV we decided to have salad for dinner. I have to say it turned out pretty good.

But that was not all we had, we accompanied the salad with a delightful glass of wine and had some "sweet potato bites" for dessert.

It was a great dinner, and then we had more wine... Not sure at what time we went to bed.
Ready in:
5 Min
| Complexity:
Very Easy
Ingredients
2 Cup Spinach
1 cup crumbled feta cheese
5 strawberries, stemmed and quartered
1 head romaine lettuce, torn
1/4 Cup Raisins

For our 2 Dressings
1 tsp honey mustard
1/4 cup raspberry vinegar
2 tbsp balsamic vinegar (Divided)
3/4 cup vegetable oil (Divided)
2 tsp Salt
Directions
Making the salad:
You can mix all the ingredients together in a large bowl and add 1 of the dressing, but I prefer an individualized salad where each person gets there own plate beautifully prepared (even it it's improvised and on a regular evening), plus having each person add the dressing they can add as much or as little as they wish, not have it all go to the bottom of the bowl, and save the leftover.
So this is how we make it at our home:
Place a handful of romaine lettuce on a plate, add spinach
over spinach add strawberries, Raisins and feta cheese.
Preparing the Dressings:
Dressing 1: Mix Salt with 1 tbsp balsamic vinegar and 1/4 cup vegetable oil.
Dressing 2: Mix together the honey mustard, raspberry vinegar, balsamic vinegar, and vegetable oil.
Proud to have this for dinner.
Enjoy!
Hits: 5083