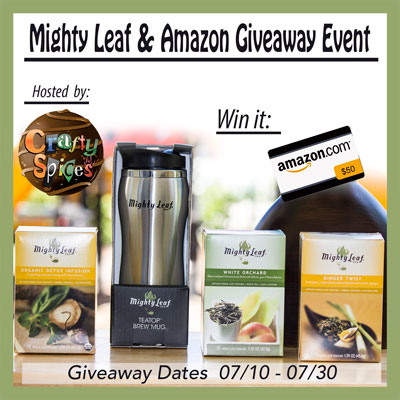 Those who know me know that I Love tea, I am also very particular about the tease I keep in my tea box for everyday drinking.
For almost a year now I have been drinking or I should say are delighting myself with Mighty Leaf Teas. They offer a large high quality variety of loose tea, iced tea, and tea pouches. The bagged tea can be bought in boxes of 15 or 100, Herbal and wellness blends are also available.
The best thing about these teas is that they are all natural and free of sugar, calories, and artificial flavors.
Mighty Leaf tea also has some very interesting teaware including their Tea Top Brew Mug (Good to Go) that we are featuring today.
Morning or Evening either one, much better after a cup of Tea.
Product Description:
We received a TeaTop Brew Mug, and a set of 3 Mighty Leaf Tea boxes (Ginger Twist, White Orchard, and Organic Detox Infusion) containing 15 pouches each.
Tea Top Brew Mug : Is a "Good to Go" travel mug with a special tea-top design by Mighty Leaf Tea for their silk pouches, allowing the pouch to be pulled to eliminate over-brewed tea.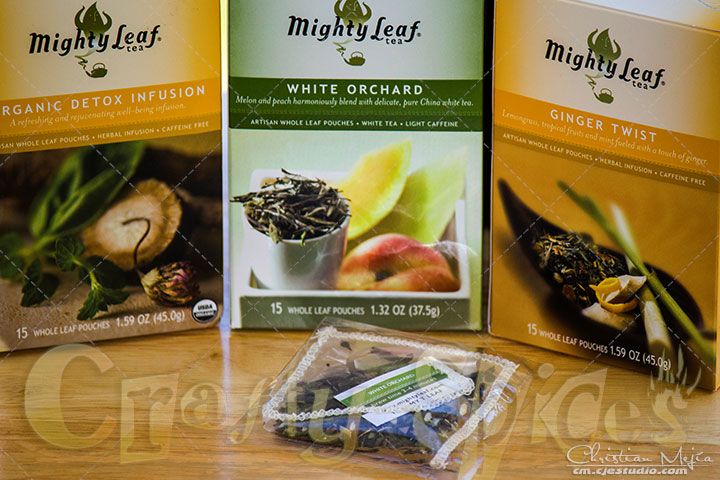 Ginger Twist: This is a blend of lemongrass, tropical fruits such as papaya, licorice, ginseng and of course ginger.
White Orchard: is a tasty blend of fruits such as melon and peach with white and green pure chinese tea.
Organic Detox Infusion:: Called a retreat in a cup!! is a caffeine free herbal infusion highlighted with organic mint and basil.
Our Experience and opinion:

We are fascinated with Mighty Leaf Tea and it's products, we love the vast variety of teas that they offer. And while they do offer both loose and bagged tea, as of today I have only tried their bagged blends, but have no doubt that their loose tea is of the same high quality and of great taste as all their bagged ones.
The pouches of the Mighty Leaf tea bags are made of silk allowing the pouch to expand and not tear when it is submerge in water.
I like very much the Tea Top Brew Mug and use it quite a bit, yet I am one to drink my tea not very hot so in that sense it works well for me, because it does not keep the tea hot for a very long time, also I have gone out with it, cranked my tea and then want another tea but if I use this mug with a non Mighty Leaf Tea pouch going through the tea-top hole the pouch will rip when pulled via the lid.
I can have a cup of tea in the morning, headed out the door, in the afternoon or just before bed time. The time and my mood have a strong influence as to which tea I prefer.
I have liked all the teas that I have tried from Mighty Leaf Tea, but today we will be talking specifically of the 3 teas that we mentioned above, and this is what I have to say:
Ginger Twist: I don't know how they came up with this blend but it has become one of my favorite go to teas after a late dinner, it helps me with a good digestion. I also love to have a cup of this tea when I am feeling congested, making me more relaxed and the aroma seems to calm down my alergies.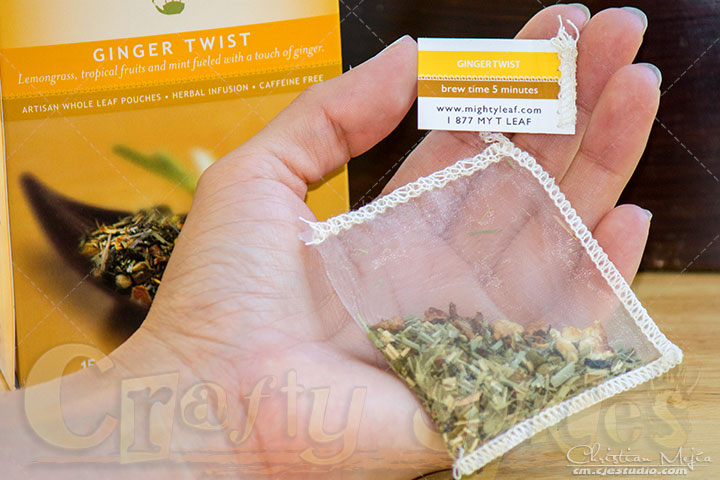 White Orchard: This tea has a perfectly balanced taste, the melon and peach work great together with no bitterness or aftertaste, making it good for any time of the day. The blend creates a wonderful aroma that I like. I really enjoy this tea while on the go.
Organic Detox Infusion: This is a tea that may not be for everyone, since it does has an acquired taste. Has a nice minty flavor which I love and also has a small bitter aftertaste that some may not find appealing. I on the other hand enjoy it and like the aftertaste. If I get un upset stomach or have eaten to much, I tend to make a cup of this tea as it seems to have a calming effect to my stomach. Not to mention I really enjoy it's scent.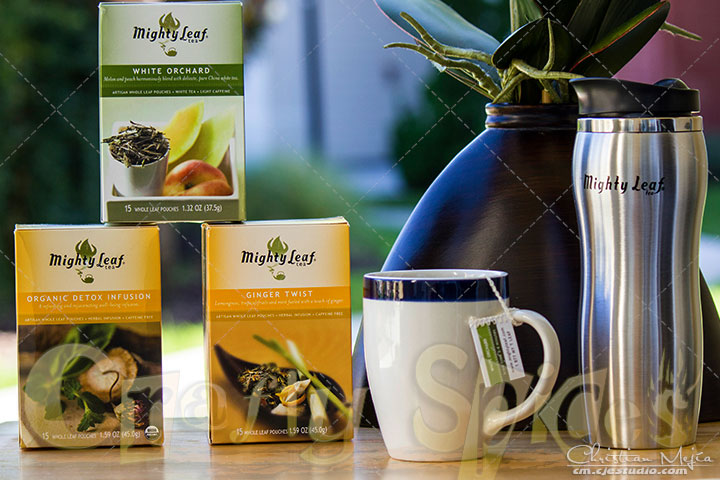 Pros: The Mighty Leaf Teas, one of the best packed Tea blends that I have tried, small fabric pouch which does not allow disintegration or easy rips.
Tea Top Brew Mug, great for tea on the go, easy top lid to avoid over-brewed tea, you just pull up and drink away.
Cons: Mighty Leaf Tea, I have no cons to say about the tea pouches, I actually love every one that I have tried.
Top Brew Mug, It does not keep Tea hot for a long time, it can only be used with Mighty Leaf Teas as other brands tend to rip when pulled via the tea-top lid.
Our final thoughts: Mighty Leaf Tea is a winner! Has a great variety of Tea blends and I will for sure be a loyal costumer. The Tea Top Brew Mug my on the go best companion.

The Company and Purchasing Information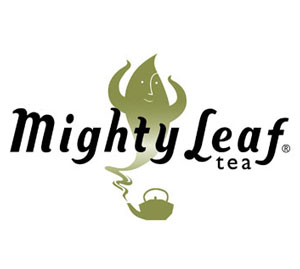 Mighty Leaf Tea
was founded by a team of husband and wife (Gary Shinner and Jill Portman) back in 1996 from their combine passion of creating exquisite Tea blends.
To find more information about Mighty Leaf Tea visit them:
Website
//
Facebook
//
Twitter
//
Pinterest
//
Instagram
To Purchase Mighty Leaf Tea or their awesome products via their
Web
or find your closest retailer
Here
Army Wife & Mommy
-->
Win It:
Follow the rules on the Rafflecopter and enter for a chance to win. Two winners will be selected: first one will win a Mighty Leaf Tea Prize Pack consisting of one World Flavors tea sampler and a Tea Top Brew Mug, second winner will receive a $50 Amazon Gift Card (Code to be sent via email). This contest is open to all U.S. residents age 18 and over, void where prohibited. The winners will be notified via email, they will have 48 hours to respond, if not another winner will be selected.

Good Luck.
Current Giveaway embedded Code:
Disclosure: No monetary compensation was given for this post. I received free products that facilitated this review. All opinions are 100% my own and may not reflect those of others or yourself. All entries will be verified. For our full disclosure and PR Info Click Here.
Hits: 13654